The Arlo Pro 3 Floodlight is an easy way to add brightness and a smart motion-sensing camera to your home or garage without running wires.
You can use this smart floodlight on its own, or pair it with Arlo wireless cameras and the Arlo Video doorbell. Alone or with the doorbell, we love the smart notifications, simple installation, and bright light that the Arlo Pro 3 Floodlight delivers.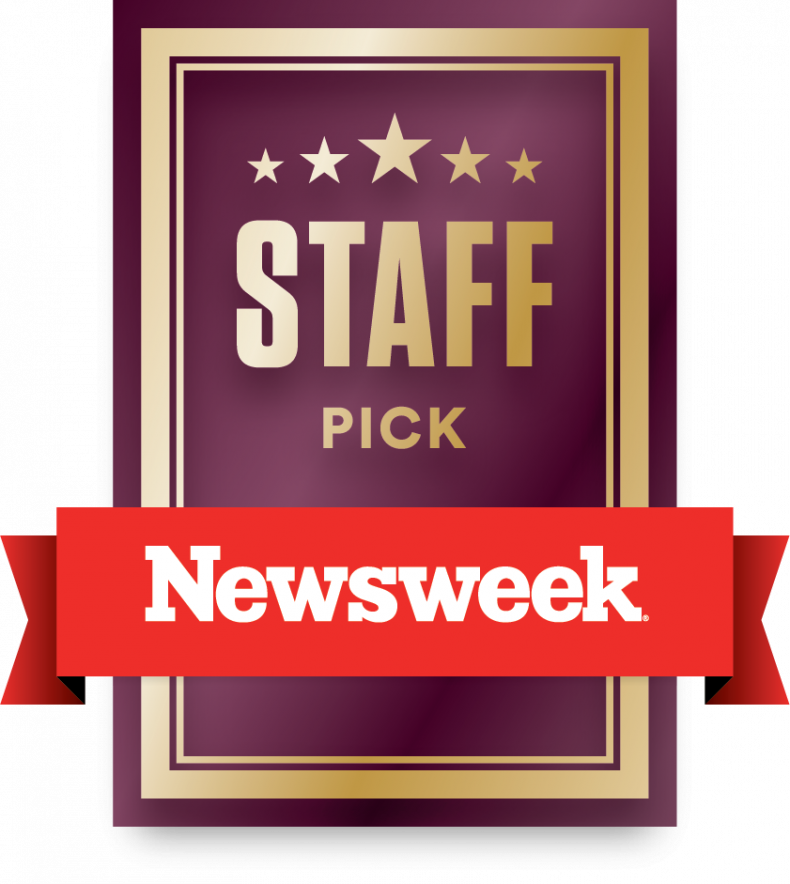 While many competitors require you to install their floodlight in a spot where you already have one or to run wires, the Arlo Pro 3 Floodlight is battery powered and connects to Wi-Fi or an optional Arlo Base Station, so that you can place it anywhere you want.
It has the best floodlight camera I've tested. I was able to install it in minutes and set up the motion zones quickly, so my family could enjoy the security that its brightness offers while heading out for workouts at 5 a.m. or coming home late.
When motion is detected, the floodlight turns on the super-bright LED and starts recording. You can even sound a siren on the camera remotely.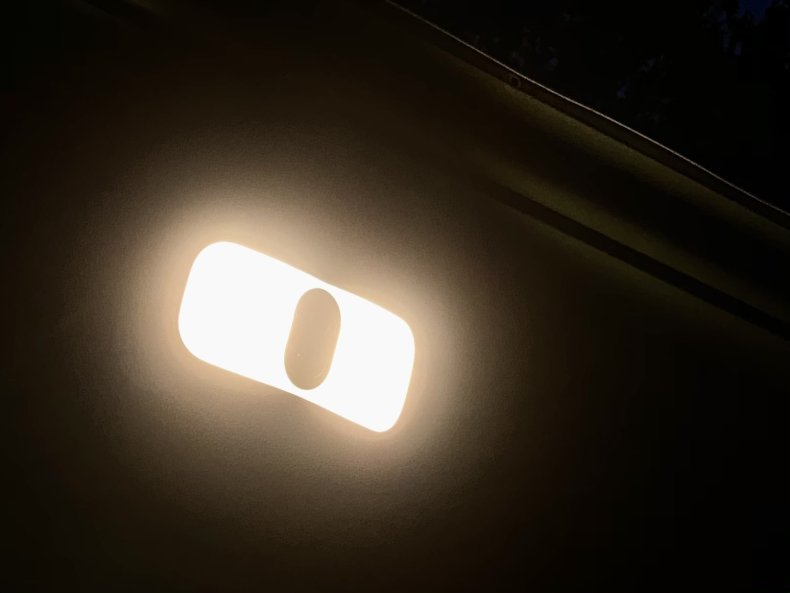 You get the floodlight camera, battery, mounting software and a charging cable in the box. The camera includes HD live streaming, fast push notifications for movement and a trial for Arlo Smart, which lets you configure exactly what kind of notifications you want to get.
The main reason to buy this over an Arlo Pro 3 camera is the included LED, which puts out 2,000 lumens on battery power and can hit 3,000 lumens if you connect it to the optional outdoor power cable. I've been testing the Arlo Pro 3 Floodlight on battery power, and it lights up the driveway very well. This is about the equivalent of two to three 60-watt bulbs.
At 2,000 lumens, the floodlight brightness reaches the edge of our long driveway and casts a wide beam that illuminates from the doorway our property line. In the app, it is easy to control the brightness of the floodlight and how long the light stays on. You can also set the light to pulsate.
With a generous amount of motion tracking, the LED brightness at max and a busy driveway, the battery lasts about a week. To recharge, you can pop the floodlight unit out of the mount and plug it in to a power cable, or you buy spare batteries for $50 each. I plan to buy one of the Arlo Outdoor Charging Cables (8 foot for $25 and 25 foot for $50), so there is no need to climb a ladder to charge the light during the winter. Arlo also sells a solar charger for $80 that you can install for constant power.
While the Arlo Pro 3 camera system requires a base station, the Arlo Pro 3 Floodlight can connect directly to Wi-Fi, making it an excellent place to start. I tested the camera on Wi-Fi and with the base station, and its performance was similar on both systems.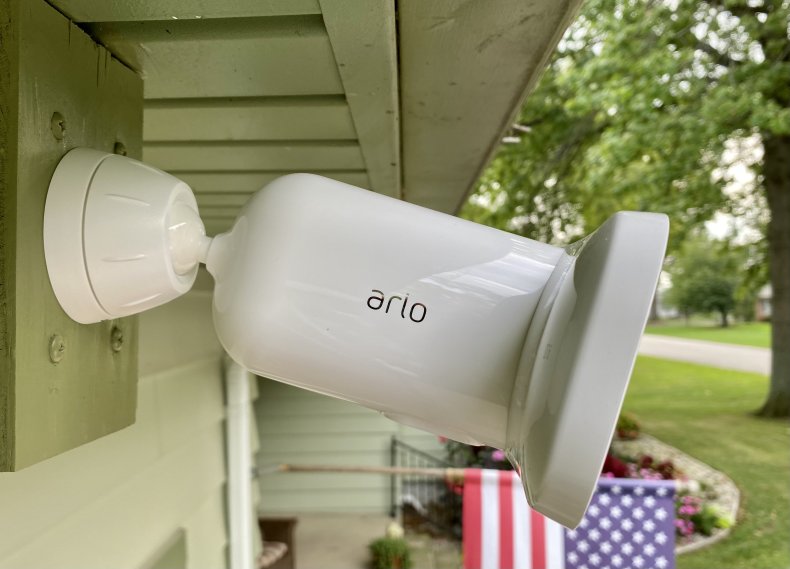 Once you attach the mount to your house or a post with three screws, you can secure the floodlight housing. The housing includes a ball joint that lets you fine-tune the up-and-down angle or side-to-side angle of the light. The floodlight is designed to go onto the side of a house or pole, not up into an overhang.
The camera recording quality is good, with up to 2K resolution with High Dynamic Range. images are crisp, and colors come through nicely. Video quality at night is excellent with the floodlight on, and a Color Night Vision feature enables you to see colors better at night when the floodlight is not on. The 160-degree viewing angle lets you capture a wide area with one camera.
An integrated speaker allows you to talk to someone through the floodlight. You can scare off an unwelcome guest or ask a delivery person to put a package at the door.
The Arlo Video Doorbell can also connect directly to your Wi-Fi network, and it pairs nicely with the floodlight. A 180-degree camera on the doorbell captures a wide and taller view of your front door than on the Ring Video Doorbell, which means that you can see more of what matters. I love that when someone rings the doorbell, your phone rings with a call so you can instantly see and talk to whoever is at your door. The floodlight works with Apple Homekit, Amazon Alexa, Google Assistant and IFTTT.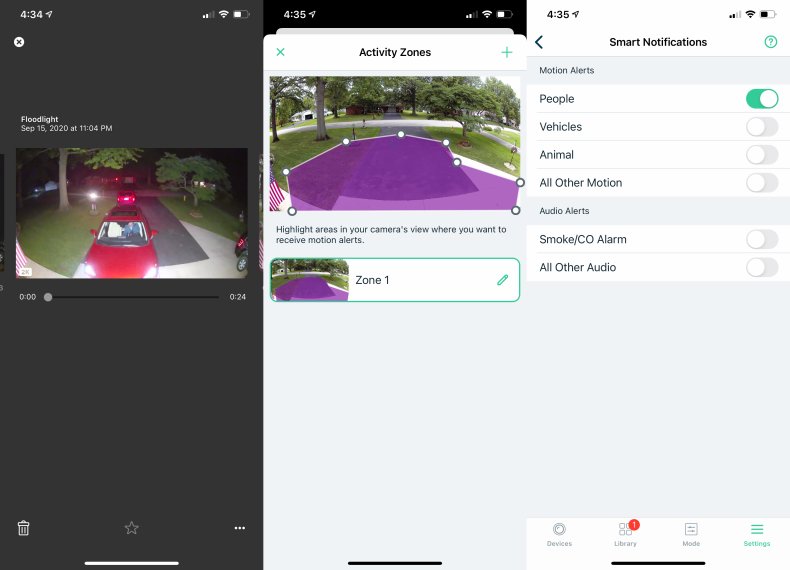 The doorbell and the floodlight both include a three-month Arlo Smart Trial. This trial allows you to customize notification settings to alert you only if it is a person, a vehicle, an animal or a package. Arlo Smart includes 30 days of recordings at 2K resolution. This enables activity zones to choose precisely where the floodlight or doorbell should alert you to motion. After the trial, Arlo Smart Premier is $2.99 a month for one camera or $9.99 a month for up to five cameras.
Is the Arlo Pro 3 Floodlight Worth Buying?
The Arlo Pro 3 Floodlight is the perfect addition to your home security system or the perfect starting point for adding smart cameras to your home. The light adds a sense of safety to early-morning and late-night departures.
Recording, two-way audio and the built-in siren offer peace of mind while you are away from home, and with the Arlo Smart Notifications, you can control what alerts you see.
With no wires to run, installing where you want a light and need a camera is simple. If you install the Arlo Pro 3 Floodlight Camera on the side or back of your house and the Arlo Video Doorbell on the front door, you get great coverage and a system you can add to over time.
At $250 the Arlo Pro 3 Floodlight is a great value and an excellent addition to your smart home.