For your next adventure, you'll want one of the best action cameras to capture your exploits. Designed to go wherever you want to go, these cameras are ruggedized to protect them against the elements, as well as from drops, spills, and falls. 
Unlike other types of cameras, action cameras are also small and compact, which makes them easy to stuff in a bag, as well as mount on a variety of things, whether that's your helmet, motorcycle, bike, skis, or even your dog.
More than that, though, the best action cameras should be able to record your activities to their fullest. That means they should be able to capture excellent video no matter if you're high up on a mountain or diving deep below the ocean. They should offer a variety of shooting modes, and be easy to use, even when you're wearing gloves. 
What are the best action cameras?
After testing more than a dozen action cameras under a variety of conditions, including a mountain biking trip and a rafting adventure, we consider the GoPro Hero8 Black to be the best action camera overall. 
It offers the best video quality, able to record in 4K at 60 frames per second and in HDR. GoPro has also improved upon the electronic image stabilization from the Hero 7, so that videos are even smoother than before. 
However, now that the GoPro Hero9 Black is out, it's more than likely to replace the Hero8 as the best action camera overall. The Hero9 can record video in 5K and has a front-facing display, which lets you frame yourself more easily when taking selfies. Be sure to check out our GoPro Hero9 Black hands on, and stay tuned for the full review.
GoPro released software that lets you use the GoPro Hero8 Black as a webcam. Here's how to use your GoPro as a webcam. 
GoPro also launched livestreaming for its Hero9 Black, Hero8 Black, Hero7 Black and GoPro Max cameras. However, in order to use this feature, you must be a GoPro Plus subscriber, which costs $4.99 a month or $49.99 annually. The subscription also provides unlimited cloud storage of GoPro footage, no-questions-asked camera replacement, and up to 50% off GoPro accessories. 
The best action camera for those on a budget is the GoPro Hero 5 Black. It costs about $150, yet offers features such as electronic image stabilization and a responsive touch screen. It can also shoot 4K video, but maxes out at 30 frames per second. It's not sold by GoPro anymore, so you can only find it where retailers have stock.
The best action cameras you can buy today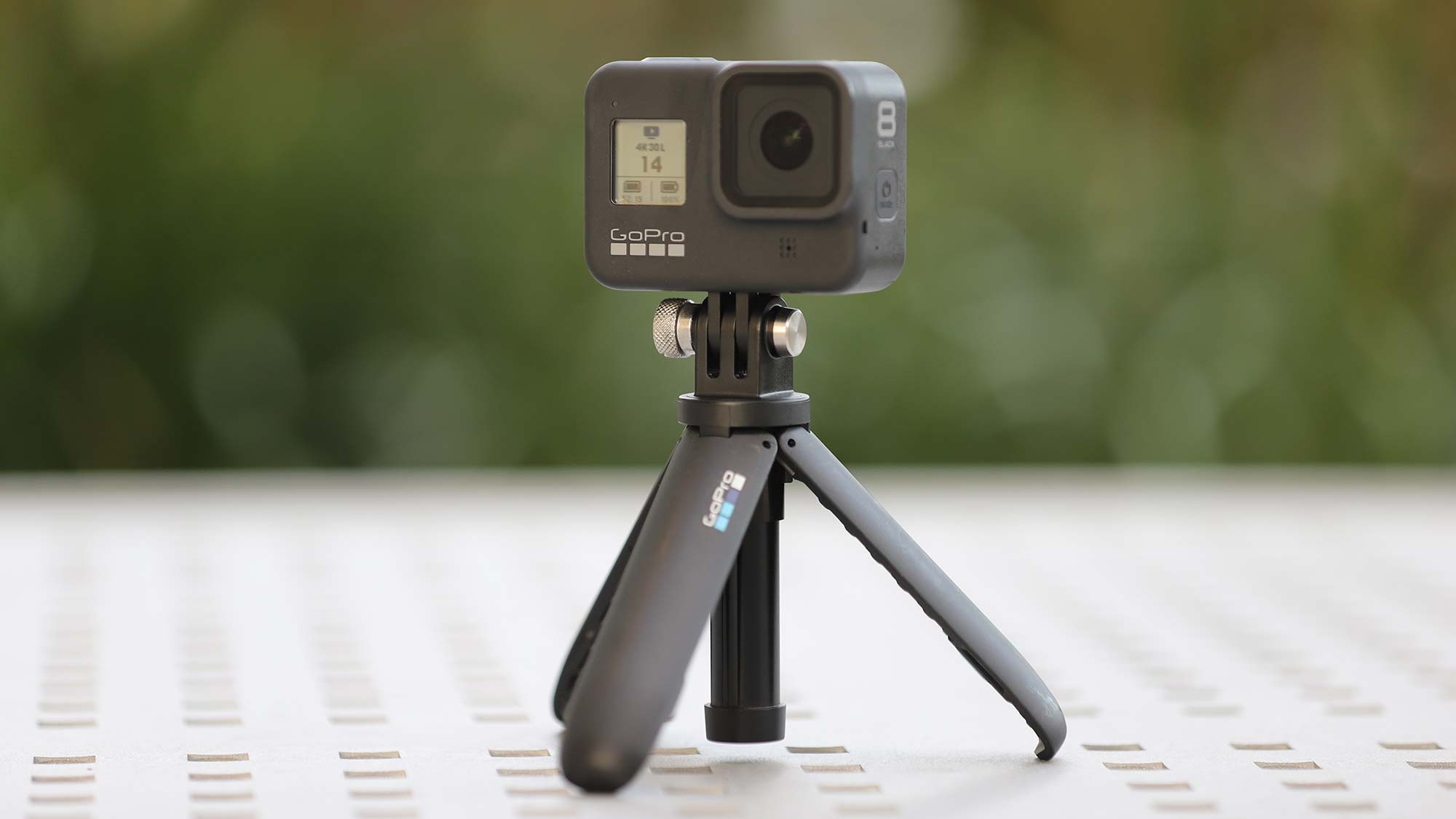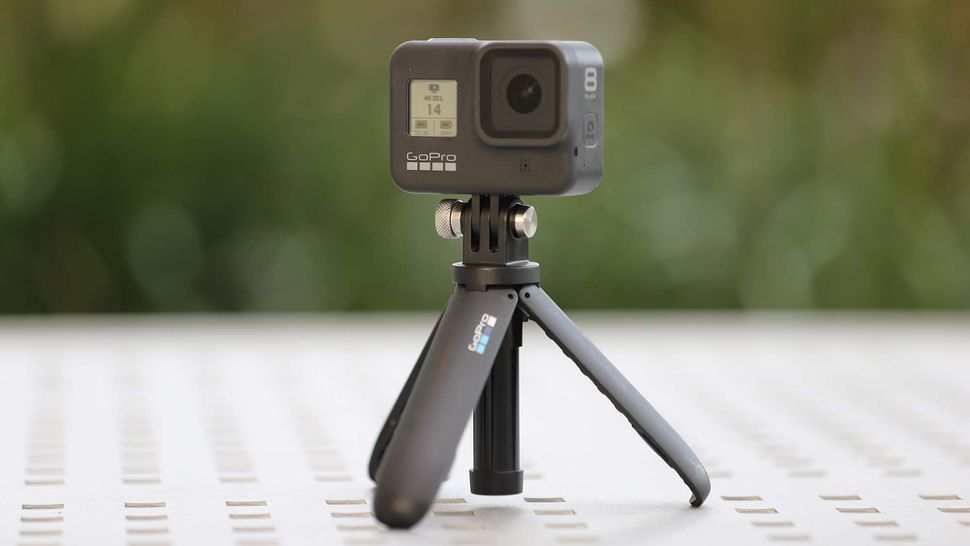 Surprise, surprise: GoPro's newest device, the Hero 8 Black, is once again at the top of our best action cameras list. GoPro redesigned the camera to make it smaller, and you no longer need to use a case if you want to attach it to accessories, such as a tripod or helmet mount. 
The redesign also allows for new add-on "Mods," which increase the functionality of the camera through external mics, lights, and more. Unfortunately, it also means that existing cases and lens adapters no longer work. 
Inside, GoPro has improved the motion stabilization to make the footage from the Hero 8 the smoothest we've seen from an action camera, and the overall quality remains as great as ever. The Hero8 Black has also been updated to work as a webcam, and its HyperSmooth 2.0 video stabilization works with more video settings.
Read our full GoPro Hero 8 Black review.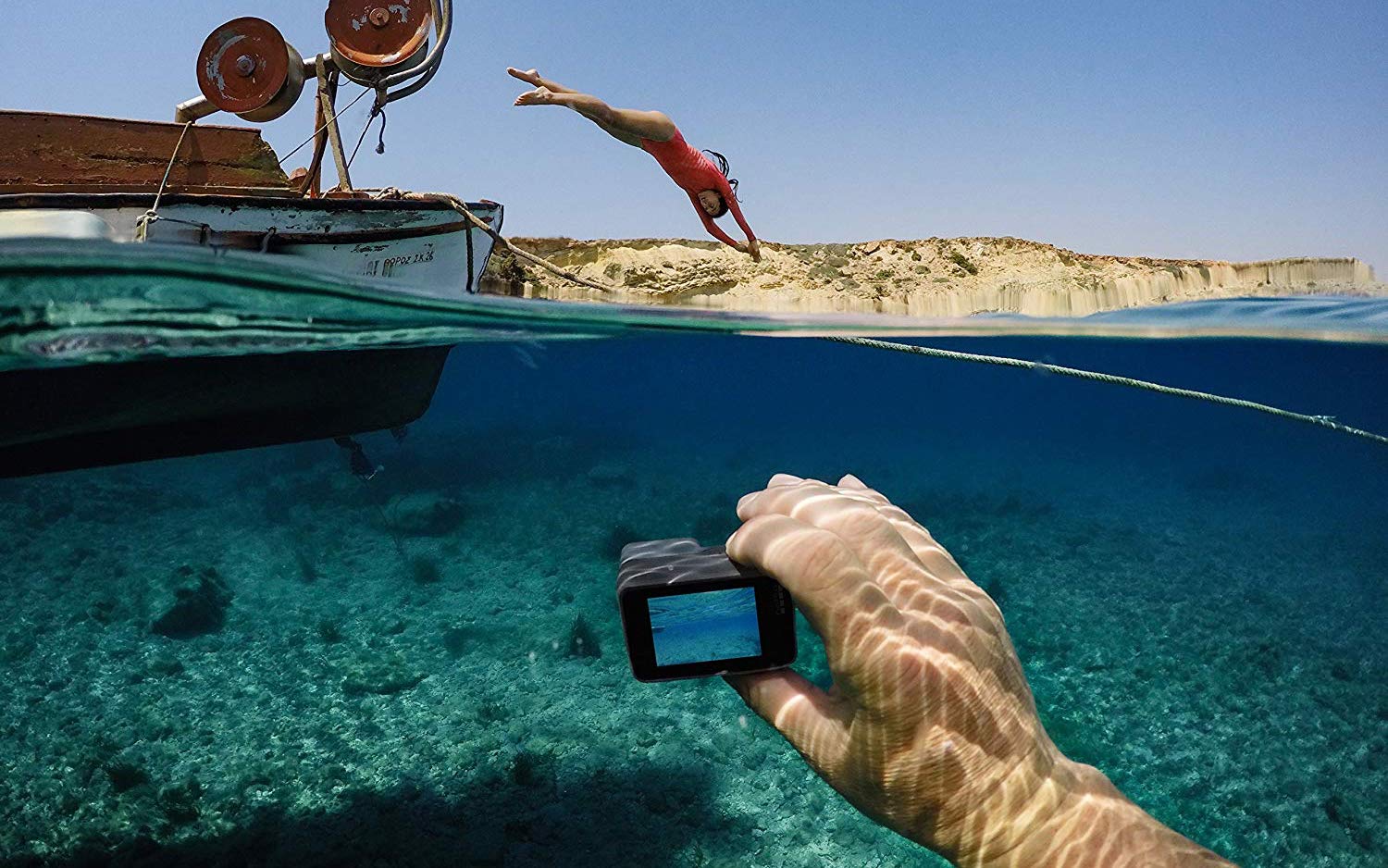 The GoPro Hero 5 Black is the best action camera for those on a budget, as it offers many of the features of higher-end models, just toned down a bit. For instance, the Hero 5 Black can record video at a resolution of 4K, but at a lower 30 fps frame rate. Additionally, it has image stabilization, but it's not as refined or effective as newer models. 
However, like the more expensive models, the Hero 5 Black Is waterproof to 33 feet without a case, and has a large color touchscreen on its rear, which lets you easily access settings and the like. Other features include advanced wind noise reduction, voice control, and the ability to control the camera from your smartphone. For $150— about half the price of GoPro's top cameras — you can't go wrong.
Read our full GoPro Hero 5 Black review.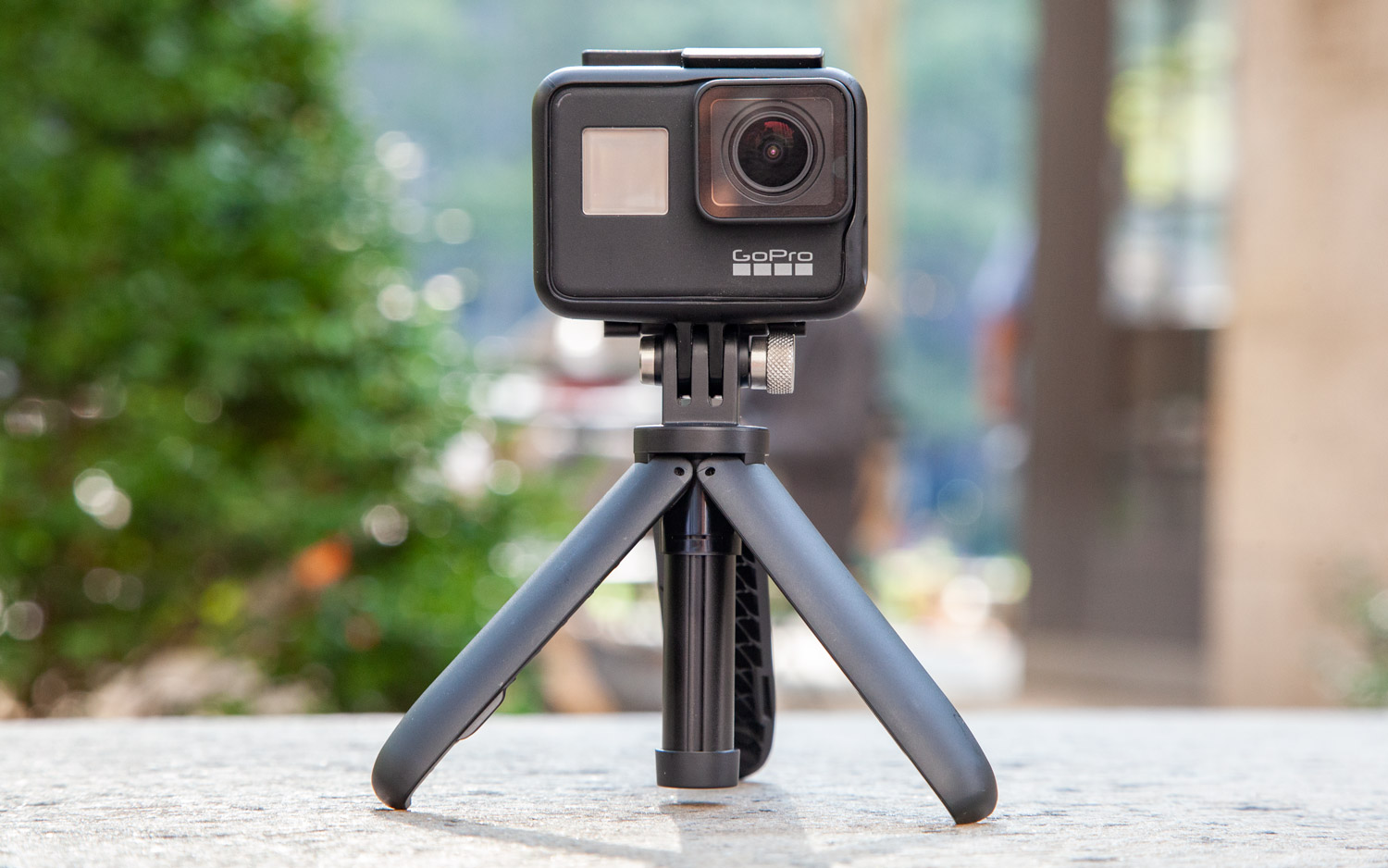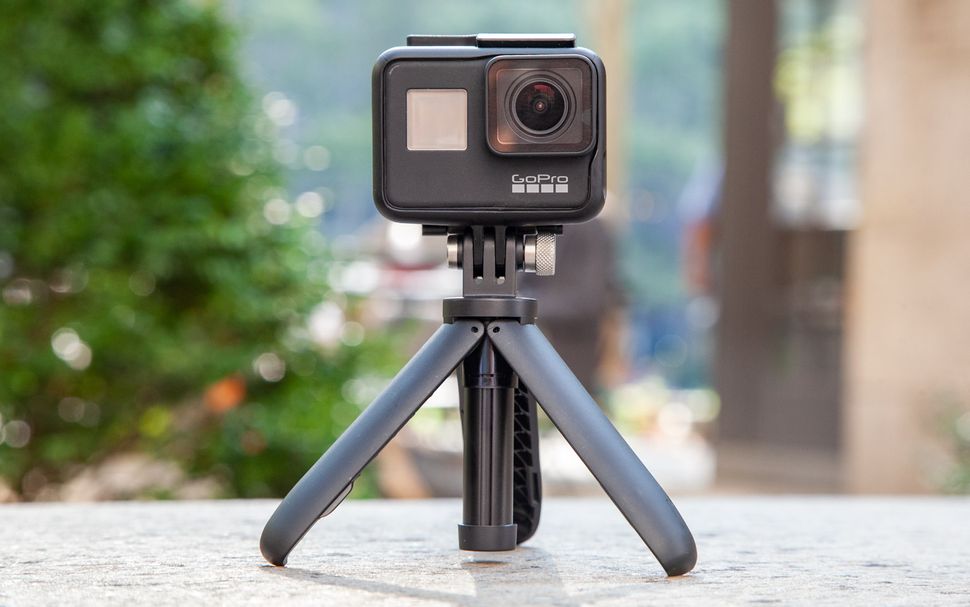 GoPro's Hero7 Black was the first of GoPro's action cameras to include the ability to record 4K video at 60 fps. Like earlier models, it's waterproof to 33 feet, has a rear 2-inch color touch-screen LCD, and voice control. While not as effective as the Hero 8, the Hero 7's image stabilization is still excellent. Plus, it can livestream to Facebook using the GoPro app. 
Because of its older design, the Hero 7 Black needs to be inserted into a case of some kind if you want to mount it to anything. Now that the Hero 8 is on the market, GoPro has discounted the Hero7 Black, and you may be able to find even better deals on the camera through online retailers. 
See our full GoPro Hero 7 Black review.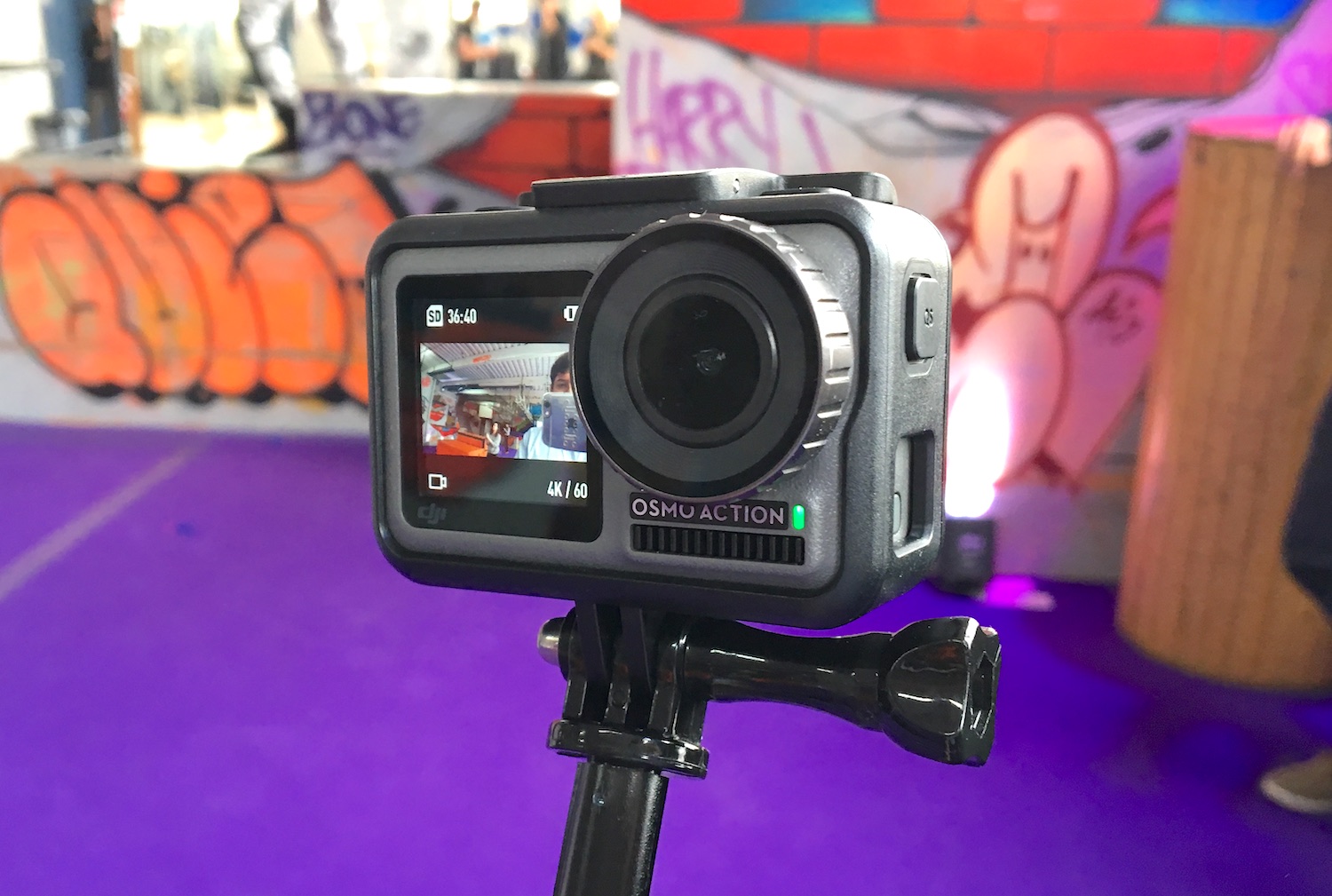 If you're trying to use an action camera to take videos of yourself, you have to sort of guess where you are in the frame, as you can't look at the screen on the rear of the camera and yourself at the same time. The DJI Osmo Action solves that dilemma, as it has a color screen on its front, which makes it much easier to frame yourself in photos and video. 
This durable camera also has very good electronic image stabilization, and it also can shoot 4K/60 fps HDR video. Unfortunately, you can't use HDR and image stabilization at the same time, and there's no way to livestream video from the camera. Still, for selfie enthusiasts, the front-facing camera alone could be worth the price.
Read our full DJI Osmo Action review.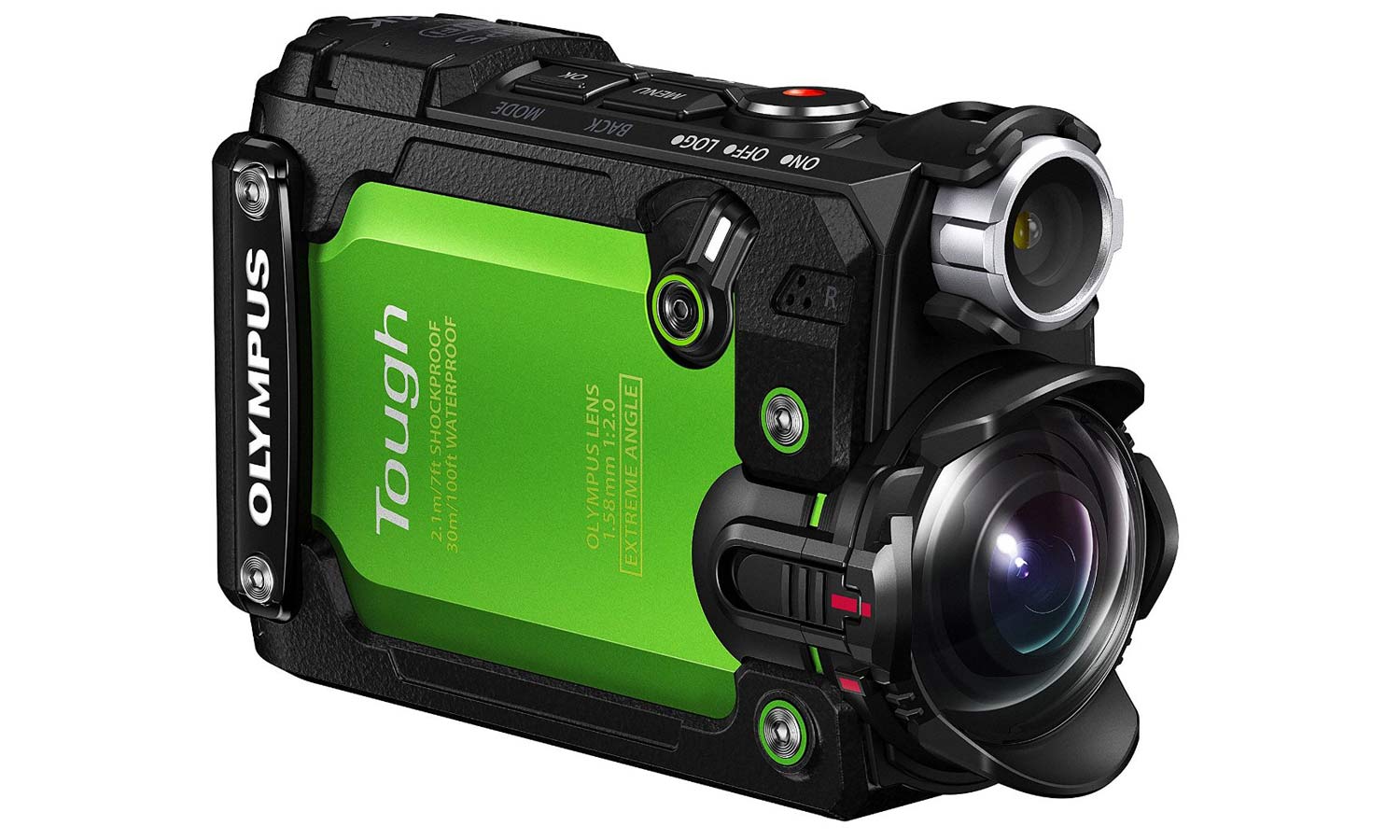 The Olympus Tough TG-Tracker looks more like a mini-camcorder than a traditional action camera, which is both good and bad. It's much larger than a GoPro-style camera, so it's too bulky to mount to, say, a helmet. However, the TG-Tracker has a nice, expansive flip-out touchscreen, so you can easily view what you're recording. 
It also has a 60-lumen light that helps illuminate darker scenes, image stabilization and is waterproof to a depth of 100 feet—three times that of the GoPro. The TG-Tracker also tracks temperature, elevation, depth, latitude/longitude, distance traveled, barometric pressure and speed, so you can capture more than just amazing videos. 
Read our full Olympus Tough TG-Tracker review.
How to choose the best action camera for you
When it comes to action cameras, GoPro is the dominant brand, and with good reason: It makes the best action cameras around, and has been for a number of years. With few exceptions, if you're thinking of buying an action camera, you should look to GoPro first, and look for the camera that best fits your budget. 
In the past, we've tested a number of sub-$100 action cameras, but have found them to be average to middling at best. It's worth spending a little bit more for a reputable brand. 
After that, it's a matter of choosing the specs that you want. Most action cameras will record 4K video, but only the newer models will support frame rates of more than 30 fps. 
Another feature that's becoming standard is electronic image stabilization—key for when you're filming bumpy exploits, like mountain biking. However, the newer the model, the more sophisticated its motion stabilization will be, which means smoother video for you.
Action camera design has progressed to the point where most are water-resistant to around 33 feet; if you want to go any deeper, though, you'll need to get a case. 
Because of the popularity of GoPros, most competing action cameras and third-party accessory makers have adopted the GoPro-style mount, two semicircular tabs that slot into add-ons such as selfie sticks, waterproof cases, and helmet mounts. 
How we test action cameras
We've got to be honest: It's a lot of fun testing action cameras, because it lets us get outdoors and go biking, skiing, swimming, and more. While we're out enjoying what Mother Nature has to offer, we put the action camera through its paces. We see how well it records video in a variety of lighting conditions; if it has features such as HDR, we see how it handles both light and dark areas in the frame. If the camera has motion stabilization, we take it over bumpy terrain to see how well it smooths things out. 
During the review process, we also take a look at the camera's ease of use. As you're going to be using it in less-than-ideal environments, it should be easy to turn on and off, and start recording, even when you're wearing gloves. And, while an intuitive on-screen interface is important for any device, it's even more crucial with an action camera, as it has such a small display.