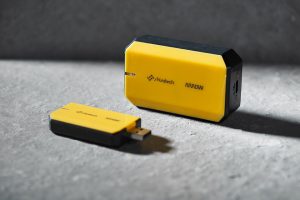 The ensemble ranges from sensors to gather data and connectivity hardware to analysis and reporting software, made available to companies to offer access to hardware, tools and consultancy services that match specific requirements of companies implementing industry 4.0. Services include project planning and commissioning as well as after sales support.
The analytics suite gathers data from sensors and transmits it to the cloud via an edge gateway, where it can be visualised and analysed through a customised dashboard. Continuous monitoring of operating data can identify patterns and any emerging faults which can be addressed promptly and maintenance or repair can be scheduled for minimum interruption to production. Disruption from unplanned downtime can thus be avoiding and cloud analytics can also analyse running costs and help increase overall service life of equipment, says Arrow.
The company worked with Shiratech to develop iCOMOX (pictured), a hardware and software condition monitoring system, connected to the cloud with MindSphere. MindSphere uses analytics, AI and data from connected products, plants and systems to optimise operations and production.
German IoT specialist, codestryke, offers consultancy services to help organisations plan and roll out IIoT deployments, advising on app development, edge and cloud analytics and the operation of cloud infrastructure. It also has an edge gateway offer (including a runtime), PLC programming and connectivity solutions.