SPRINGDALE — A new designer residency program is working to put Northwest Arkansas on the fashion industry map.
Titled Emerge, the program is Springdale-based Arkansas Arts and Fashion Forum's first program of this nature and will help impact the careers of designer in residence Bruce Davis of Little Rock and 11 Arkansas-area cohort designers, said Robin Atkinson, Arkansas Arts and Fashion Forum CEO.
Arkansas Arts Fashion Forum was established as a nonprofit in 2017 and was launched as part of Northwest Arkansas Fashion Week, Atkinson said.
The forum is the first occupant of the Creative Arkansas Community Hub and Exchange in Springdale, formerly the Arts Center of the Ozarks, she said. The building was purchased by Grove Arts, an affiliate of the Tyson Family Foundation, in September.
The fundamental focus of the forum is to bring a fashion industry to Arkansas, Atkinson said.
"As we've looked at the landscape of Northwest Arkansas over the last three years, we have made a very conscious effort to locate in Springdale because of the talent we see here and also the possibility of providing actual enterprise opportunities here," she said. "We see an untapped talent pool in Springdale that we are truly hoping to activate."
The program began Oct. 2 with a virtual launch, Atkinson said. The designers gathered for the first time Saturday at the hub, where they experienced in-person and virtual fashion industry discussions, Atkinson said.
Shamirra Clark, 31, of Little Rock said she was excited to gather with the other cohort designers for the first time and to learn from what best practices they may have to share.
"Sometimes, when you see how another designer works and you see their perspective, you can add that approach for your business," she said, noting she'd like to learn more about manufacturing quality pieces.
Clark's brand is Richie Clark Clothing and features artistic, eclectic and chic pieces that keep the feminine form in mind, she said. Her standard pieces start at $65, and her custom creations begin at about $250, Clark said.
Davis was a natural selection to be the first resident designer for the program and is one of the most promising talents in the state, Atkinson said.
"His tailoring ability is absolutely professional at every level," she said. "His passion and his talent truly lie in design."
Davis, 29, has been designing professionally since 2014, he said.
His brand 22nd Element specializes in essentials like jackets and simple trousers that merge ready-to-wear with a touch of class and edge, he said. His pieces range in cost from $20-$200, Davis said.
"If I can make things look high fashion for a great price, that's kind of been my end goal for the business," he said.
The designer residency program was initially constructed to have Davis live in Springdale for 3½ months but had to be adjusted because of the covid-19 pandemic, Atkinson said.
Davis said he will instead drive to Northwest Arkansas every other weekend through January so he can meet with industry experts from New York and program mentors.
He'll share what he learns with cohort designers at monthly gatherings at the hub, Atkinson said.
Davis said he appreciates constructive criticism for his work and is looking forward to the feedback he receives from program mentors.
"If you can have some people around you who're going to be honest with you in regards to creativity or your work, that's the best type of learning," he said.
Cohort designer Brandy Lee, 39, of Fayetteville has been designing professionally for 12 years and said she's looking forward to learning more about what technical designer Telicia Bunch of New York has to share.
Lee's brand Big Sister primarily features quality-made and dependable women's ware that has a flair of fun to it, she said. Her pieces run from $30 for a top to more than $400 for a special occasion garment, Lee said.
"The mentorship is going to be key," she said. "They have a lot of information that somebody who's just kind of working day-to-day and making clothes out of a small studio doesn't really have access to."
Elizabeth Koerner, 57, of Bentonville said she's looking forward to collaborating with other cohort designers.
Koerner's brand Elizabeth features everything from wedding gowns to shorts and shirts to wearable art with pieces that start at $200, she said.
"I feel very strongly about collaborative work," she said. "There's always a richness that comes from that."
The pilot of the program was paid for through a $200,000 grant from an unnamed philanthropic organization, Atkinson said. Future iterations of the program will primarily be funded through Northwest Arkansas Fashion Week, she said.
Davis will receive a $3,500 stipend and a $2,500 materials budget to produce a collection of 10 looks, she said. Each of the designer cohort participants will receive a $750 supply budget to produce a five-look collection.
Davis' collection will pay homage to a song called "Glass" by Marsha Ambrosius, he said, and will feature elevated essentials like trench coats and jackets that incorporate neoprene, cotton or heavy wool fabrics.
Emerge designers will show their work in June at Intersect, a new, monthlong event featuring fashion, film, music and art installations throughout Springdale and at the next Northwest Fashion Week in October of 2021, Atkinson said.
The next iteration of Emerge will begin in March, she said, with applications likely being available online at the forum's website in January.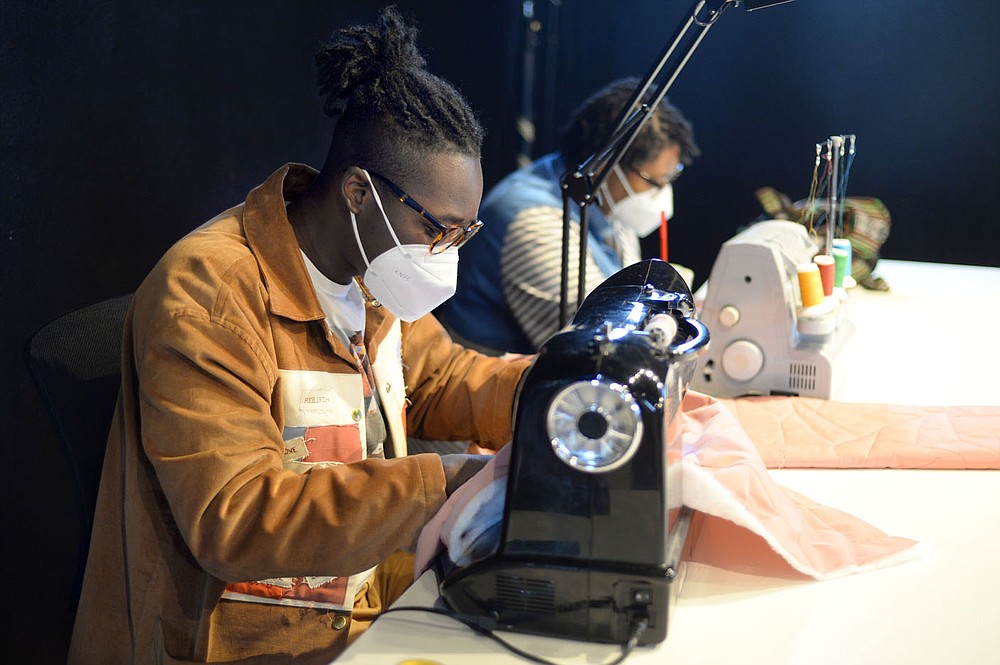 Fashion designer Bruce Davis works alongside his wife, Keinona Davis, Saturday, Oct. 10, 2020, as they begin their term as resident artists in the Arkansas Arts and Fashion Forum's Emerge program at the Creative Arkansas Community Hub & Exchange, formerly Arts Center of the Ozarks, in Springdale. The group is working to create an artist residency to connect local talent with national and international leaders in apparel and fashion design. Visit nwaonline.com/201011Daily/ for today's photo gallery.
(NWA Democrat-Gazette/Andy Shupe)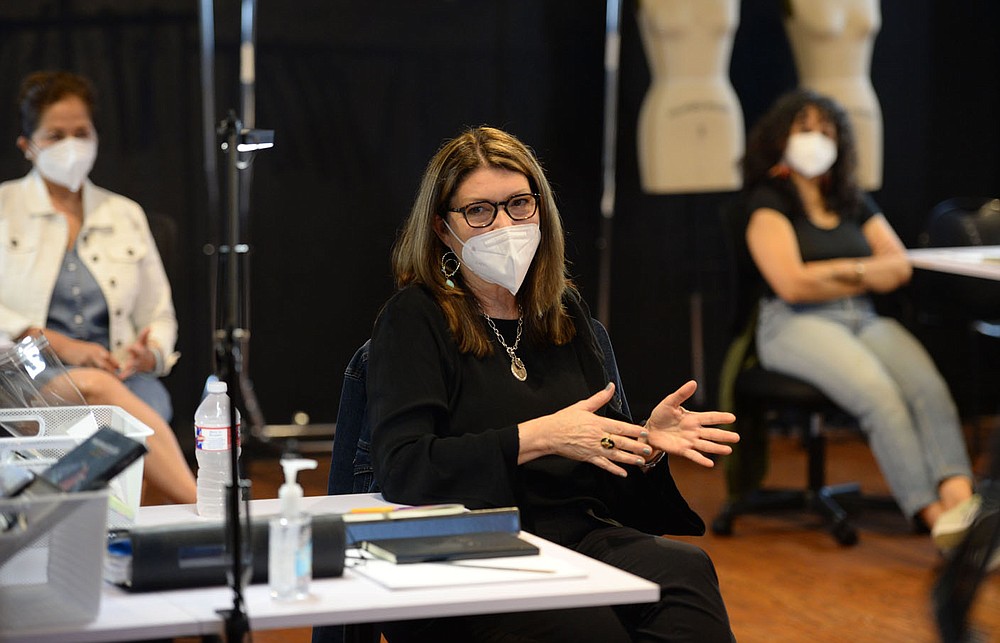 Fashion designer Kathleen Schwarz of Dallas speaks Saturday, Oct. 10, 2020, while taking part in the Arkansas Arts and Fashion Forum's Emerge program at the Creative Arkansas Community Hub & Exchange, formerly Arts Center of the Ozarks, in Springdale. The group is working to create an artist residency to connect local talent with national and international leaders in apparel and fashion design. Visit nwaonline.com/201011Daily/ for today's photo gallery.
(NWA Democrat-Gazette/Andy Shupe)