The impact of the COVID-19 pandemic on software companies has had some far-reaching consequences, but overall the sector has managed to weather the storm by adjusting to a new normal of remote work and by prioritizing company culture and individual engagement while keeping costs down.
That's according to the findings of a new study by the venture capital firm New Enterprise Associates, which surveyed companies across its enterprise software portfolio to find out how they're adjusting their sales tactics, moderating spending and keeping their teams motivated.
The survey was a follow up to NEA's initial analysis of the impact of COVID-19 on enterprise software companies published in July, and it found that many of its base expectations held true.
As expected, video and chat software firms have proven to be the biggest beneficiaries of the remote working trend, with almost 60% of companies in NEA's survey saying they've increased their spending on these types of services, while the other 40% maintained its existing level of spending. NEA said its prediction that companies would experience more difficulty in closing sales in a remote environment also held true, with 57% of survey respondents admitting to sales challenges.

Even so, NEA said that businesses on the whole have managed to adjust to the new landscape pretty well, with just one in ten respondents saying they'd experienced a "severe shift", while a quarter said that sales motion was about the same as it was prior to COVID-19.
A rapid recovery
NEA was encouraged to report that almost half of the software firms said they were well on the way to a recovery by the end of the second quarter.
"In comparing estimated CY20 performance with Q1 and Q2 performance, we noted that 48% of businesses started—and expect to continue—to see gains towards their pre-COVID-19 plan through the end of the year," NEA's researchers said. "52% of businesses, however, expect that tough quarters will continue and are planning for similar or slightly worse performance in Q3 and Q4."
The recovery has been aided by cutbacks in spending, particularly around things such as developer tools, cloud infrastructure and sales and marketing tools, NEA said.
However, the benefits of these cutbacks were not uniform. Indeed, the survey suggests that those companies which focused on reducing their expenditure on sales and marketing tools generally had a much more positive financial outlook than those that cut back on developer tools and cloud infrastructure spending. NEA said that 25% of the companies it surveyed that are "trending positively" reduced their S&M tool expenditure, contrary to its initial expectation that COVID-19 would produce tailwinds for that sector.
Developer tools saw the biggest cutbacks, with 22% of respondents decreasing spend on this category. NEA theorized that this was due to consolidation where such tools lacked widespread adoption. In addition, most developer tools are based on open-source software, so it's possible that some companies chose to cut costs by switching to the free versions of those tools.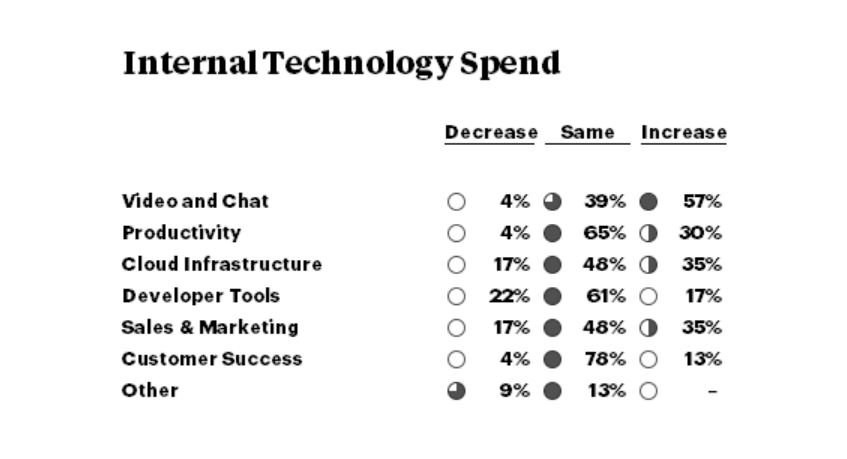 The cuts on cloud infrastructure spending were largely attributed to an effort by customers to renegotiate their existing contracts and more aggressively seek discounts.
Sales headwinds
COVID-19 has also created a much more challenging remote sales environment for software companies, which have to contend with smaller teams and tighter budgets from buyers. Almost 50% of firms that reduced their sales and marketing headcount reported that customers' purchasing budgets had shrunk. As a result, 54% of companies said they found it harder to close business deals while remote, and another 30% said they were under pressure due to budget contractions.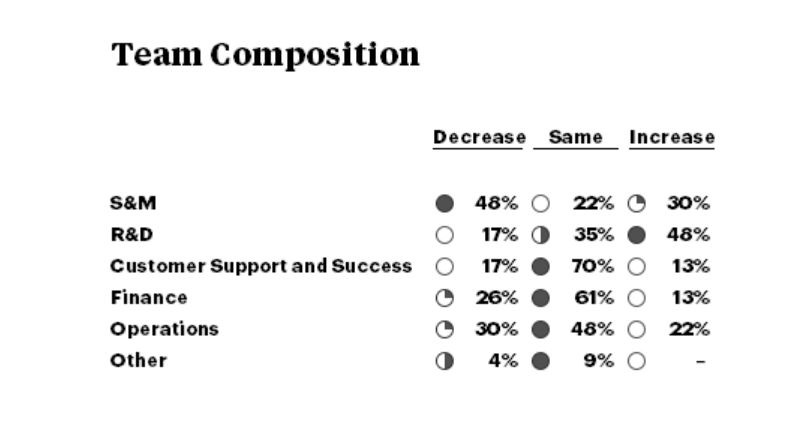 Not everyone faced the same challenges though. Of those that reported sales have been "somewhat easier" since the pandemic began, 50% of those were in sectors that have directly benefited from COVID-19, such as video and remote chat software. The other 50% said they'd succeeded by prioritizing executive sponsorship and getting company management more involved in meetings due to travel not being necessary. They also reported benefits from cold calling and adapting to virtual events and conferences, which helped to generate more leads than before due to the ease of attending online events versus appearing in person.
Another key to maintaining success during the pandemic has been to prioritize company culture and individual engagement in order to keep up team morale, the survey found.
Promoting company culture 
NEA said that respondents in its original survey had said maintaining company culture was a key pain point. But in recent months many have been successful in developing methods of to promote company culture remotely. For example there has been a focus on increasing time off for staff and virtual team events. In addition, software firms have promoted accessibility to mental health resources and put more focus on transparency within their organizations.
"Our portfolio company Transfix set a fantastic example here," the study authors said. "The company put in place employee engagement programs that have helped support four main pillars centered around: Health & Wellness, Celebrating Connections (internally and externally), Diversity & Inclusion and Learning & Development."
Some other ideas introduced by NEA's portfolio companies include promoting connectivity by having each employee call a random person within the company that's outside their normal orbit, and implementing monthly escape days for employees to take time off.
Furthermore, companies have increased their reliance on objectives and key results frameworks, with clearly defined key performance indicators to keep teams aligned on corporate goals.
"We have begun using OKRs for the first time to drive alignment across the company and definitely recommend them as a way to help engagement of employees who want to understand what other parts of the company are doing that they no longer see, and to understand how what they are doing directly affects top company priorities," one portfolio company said.
The success of NEA's portfolio companies in adapting to the COVID-19 landscape means that for many, remote work is likely here to stay. The survey found that 91% of NEA's portfolio companies will continue to support remote work going forward. That said, the transition will take some time, with most companies favoring a hybrid working environment once it becomes possible to safely return to the office.
Images: NEA
---
Since you're here …
Show your support for our mission with our one-click subscription to our YouTube channel (below). The more subscribers we have, the more YouTube will suggest relevant enterprise and emerging technology content to you. Thanks!
Support our mission:    >>>>>>  SUBSCRIBE NOW >>>>>>  to our YouTube channel.
… We'd also like to tell you about our mission and how you can help us fulfill it. SiliconANGLE Media Inc.'s business model is based on the intrinsic value of the content, not advertising. Unlike many online publications, we don't have a paywall or run banner advertising, because we want to keep our journalism open, without influence or the need to chase traffic.The journalism, reporting and commentary on SiliconANGLE — along with live, unscripted video from our Silicon Valley studio and globe-trotting video teams at theCUBE — take a lot of hard work, time and money. Keeping the quality high requires the support of sponsors who are aligned with our vision of ad-free journalism content.
If you like the reporting, video interviews and other ad-free content here, please take a moment to check out a sample of the video content supported by our sponsors, tweet your support, and keep coming back to SiliconANGLE.