Before COVID-19 hit, San Diego Gas & Electric sent technicians up in helicopters to string power lines between towers. The process required evacuating around 24 homes for a couple of days. But the outbreak curtailed that practice, since there was no way to safely remove people from their households for an extended period during a pandemic.
Now the utility has adopted DJI's Matrice 300 drones for these line-stringing operations—and no one has to evacuate. Its experience moving from manual methods to automated, drone-driven techniques is being increasingly matched across the agriculture, infrastructure, construction, public safety, and energy industries as the pandemic persists, says Cynthia Huang, director of business development at drone giant DJI. (Best known for its consumer drones, the Chinese manufacturer is also the dominant player in the commercial market, where it competes with companies such as Skydio, Inspired Flight, Flyability, Yuneec, and Autel.)
Companies throughout those industries have no choice but to maintain the reliability of vast and complex systems, even as they grapple with the health and safety issues imposed on them by the coronavirus. Drones offer them the ability to do highly efficient data gathering, including taking video and photos and using artificial intelligence to do some onboard analysis.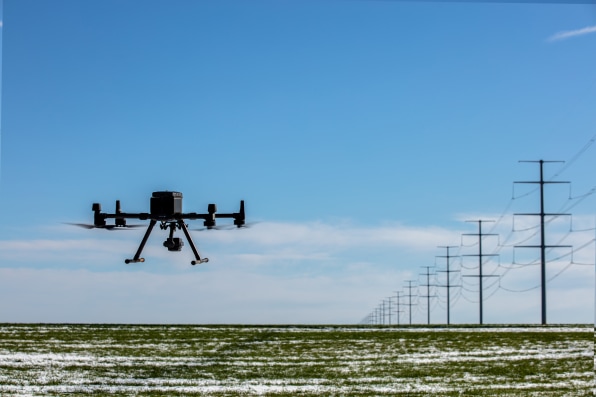 Between 2018 and 2019, the American commercial drone fleet grew 39%, according to data compiled by drone industry analyst David Benowitz, a number that sounds good until you realize that growth a year before that had been in excess of 140%. But the logistical demands of the pandemic have to some extent revitalized the industry, especially within the ranks of companies that had already been experimenting with the devices.
COVID-19 "has forced organizations who already have drone programs to take them more seriously, as it becomes a major way they can operate," Benowitz says. "Drones have become a critical tool to continue working in these difficult times."
From chaos, a solution
In the chaotic first months of the pandemic, there was little clarity on how big companies could perform essential operations such as inspections, given the lack of broad understanding of how to work under social-distancing guidelines and other new restrictions. But starting around May, Huang recalls, things stabilized as industrial organizations began to develop procedures for how to keep employees safe while performing vital work. In many cases, she says, that meant turning to drone operations as an alternative.
One thing that happened was that late in the spring, people who had been running small experimental drone programs within large companies began to get bombarded with requests for help from other departments. "They had to start looking at how to shape best practices," Huang says. Companies like that "were able to make that shift [toward broader drone use] more rapidly."
During a pandemic, it's not possible to send out large crews to do in-person inspection projects.
She points to Ameren, a utility company that serves millions of customers across Missouri and Illinois, which had an existing drone program that was often utilized only when other methods—such as using helicopters or the large-crew inspections—weren't feasible for one reason or another. Once COVID-19 came along, however, business units throughout Ameren have been reaching out to the drone team as their primary option. "You can send one drone pilot," Huang says, "and go out and capture [vital] data."
Another example involves a Fortune 100 utility with about 10 million customers across the East Coast. In the past, when it needed to inspect one of its cooling towers, it had to plan on a 3- to 4-week project involving a crew of 15 and the construction of expensive scaffolding. Keeping energy infrastructure operational is an essential task, but during a pandemic, it's not possible to send out large crews to do in-person inspection projects. Using DJI drones, it now completes its inspections in just five days and with just two crew members, all while meeting stringent social-distancing requirements.
As use cases such as this have proliferated, many companies that didn't use them previously have begun to see the value of incorporating drone programs. Those organizations began reaching out to industry peers who had already demonstrated drones' value in a bid to learn what worked and what didn't, Huang says.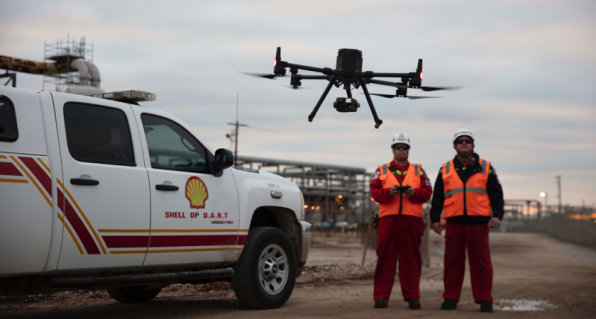 And one thing has become clear: Companies that specialize in offering commercial drone capabilities are flourishing. DroneDeploy, which offers drone-based mapping for enterprises, reported a 130% year-over-year increase in its April business and said it had its best-ever month for flights in May.
Another beneficiary of COVID-19's impact on the use of commercial drones has been DroneBase, which provides professional pilots to companies in need of drone operations. In February and March, Benowitz says, DroneBase's business grew 30%. And things have only gotten better for the company since then. "We certainly have had record month on month on month through the spring and summer, [and] 2020 will be our best year as a company," DroneBase CEO Dan Burton says. "I imagine we'll nearly double the business this year."
After the pandemic ends, will industries that have adopted drones return to more traditional operations?
Meanwhile, COVID-19 has also benefited commercial drone operations in businesses beyond infrastructure. Burton says DroneBase has been helping insurance adjusters handle the aftermath of natural disasters, such as tornadoes and wildfires, by letting them do aerial visual inspections of damaged properties. And that in turn is a huge aid in speeding payments to displaced families. Drones are even finding a use in tasks such as cleaning the Atlanta Falcons' Mercedes-Benz Stadium.
Another example of ways drones have been beneficial to business, says Benowitz, is the significant pandemic-era increase in drone-based package delivery by companies such as Alphabet-owned Wing, Amazon, and Flytrex.
What's less clear is what happens after the pandemic ends. Will industries that have adopted drones return to more traditional operations, or will they stick to using the newer technology?
Benowitz thinks the answer lies in the significant cost savings drones provide. He says many companies, particularly in the oil and gas industry, which saw a lot of COVID-19-related layoffs, will recognize that the efficiencies drones offer isn't something to turn their backs on just because it's possible to return to older methods. "Once companies begin to rely more on drones," he says, "they won't go back."