KOLKATA: An unidentified gang sneaked into David Hare Training College on Ballygunge Circular Road early Saturday and reportedly vandalized multiple rooms. Though the apparent motive was theft, the institute authorities claimed that given the targeted destruction of the server room, it looked like a deliberate attempt to sabotage an online examination scheduled from October 1. The college authorities have, however, decided to go ahead with the exam with no change in the timetable.
"ACs and routers have been stolen. The accused destroyed the server room and ransacked classrooms as well as the auditorium. Wires were pulled out of sockets, while computers and other gadgets were smashed. The accused even pulled down the auditorium ceiling to prevent its use," Soma Bandopadhyay, vice-chancellor of West Bengal University of Teachers' Training, Education Planning and Administration, told TOI after visiting the institute, which is situated within 150m of the Ballygunge police station.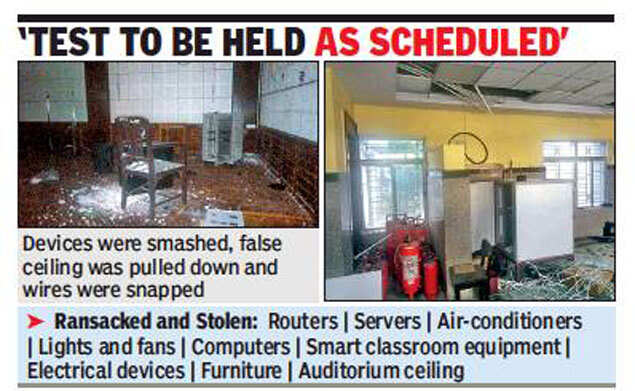 According to police, multiple people had climbed over the walls and into the campus during lockdown on Friday. They apparently had access to the entire four-storey building. Police suspect "an internal" hand. "They knew the layout. Electrical gadgets and appliances were destroyed," said an officer.
As copper wires from ACs were stolen, police suspect local drug-addicts, who sell wires, might have been involved. Cops are examining CCTV footage.
Bandyopadhyay later spoke to education minister Partha Chatterjee and higher education officials. "An FIR has been registered and officers have assured me of necessary action," she said. A report will be sent to Chatterjee. Bandyopadhyay said, "I assure 85,000 terminal semester candidates that the tests will be held as scheduled. We will abide by the SC order and instructions from the state."
Sources said fake news had been circulated that students would have to take the test at the institute. "Administrative sources pointed to this online fake campaign. We are finding out if there is any link. The anti-burglary section is helping local cops. Cyber cell has been told to trace the persons who circulated the fake news," police said.