Motorola has announced that it will launch a new range of home appliances under the 'Motorola' branding on October 9 in India. A picture shared by the company on Twitter suggests that the products will be Air Conditioner, Refrigerator, and Washing Machine.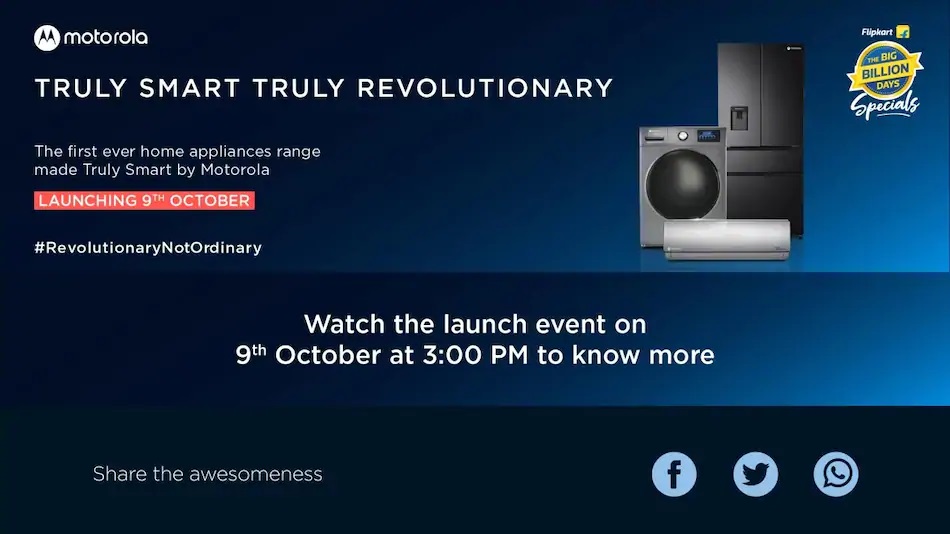 The event, as per a Flipkart teaser page(via Gadgets360), will take place on October 9 at 3 PM IST. Motorola will most likely stream the event online. From the looks of it, the company is launching the products on the occasion of the upcoming Flipkart's Big Billion Days(October 16- October 21). And, the company's post on Twitter gives us a closer look at the products.
It's time to experience more, introducing the first ever range of smart appliances from Motorola! Launching on 9th October @Flipkart.#RevolutionaryNotOrdinary #IndiasBiggestSale#FlipkartBigBillionDays https://t.co/MOYbDksIfc pic.twitter.com/fQBZAGNza7

— Motorola India (@motorolaindia) October 7, 2020
First up, one of the products on the teaser image is Refrigerator. It is black in color and looks like it also has a Water/ice dispenser built-in. There are two long doors that probably houses the section of the majority of storage items. And, two more compartments beneath the doors as well. Besides, there is a Motorola branding and Adaptive Inverter Technology at the top right. The inverter keyword is probably to save the energy smartly.
Next up, the Washing machine in the teaser image is a front-load machine. There is a digital display with a menu dial at the center. Lastly, the Air conditioner takes the shape of a typical split-ac design with a central digital display. Plus, AC is silver in color whereas the washing machine has grey accents. Unfortunately, there is no additional info regarding the products yet. That said, the teaser images repeatedly boast of the word "Truly Smart". This could either mean energy efficiency or integration of a voice assistant via smartphone but nothing is confirmed yet.
Apart from this, the company is also launching a new range of Smart TVs on October 9. Motorola has been in the Smart product segment for a while starting with the first Smart TV back in September 2019. However, with the new launch, the company will be expanding its footprint across other home appliances as well. Let's wait for more details on Friday.
Up Next: Motorola Razr 5G launched in India for Rs 1,24,999 (~$1,700)
ALWAYS BE THE FIRST TO KNOW – FOLLOW US!