As reported, Motorola has launched its new Smart Home Appliances alongside its new Smart TVs today in India. The latest launch includes products like ACs, Refrigerators, and Washing Machines. All the appliances have TruWi-Fi technology and a plethora of features at aggressive prices. They will go on sale on the occasion of Flipkart Big Billion Days.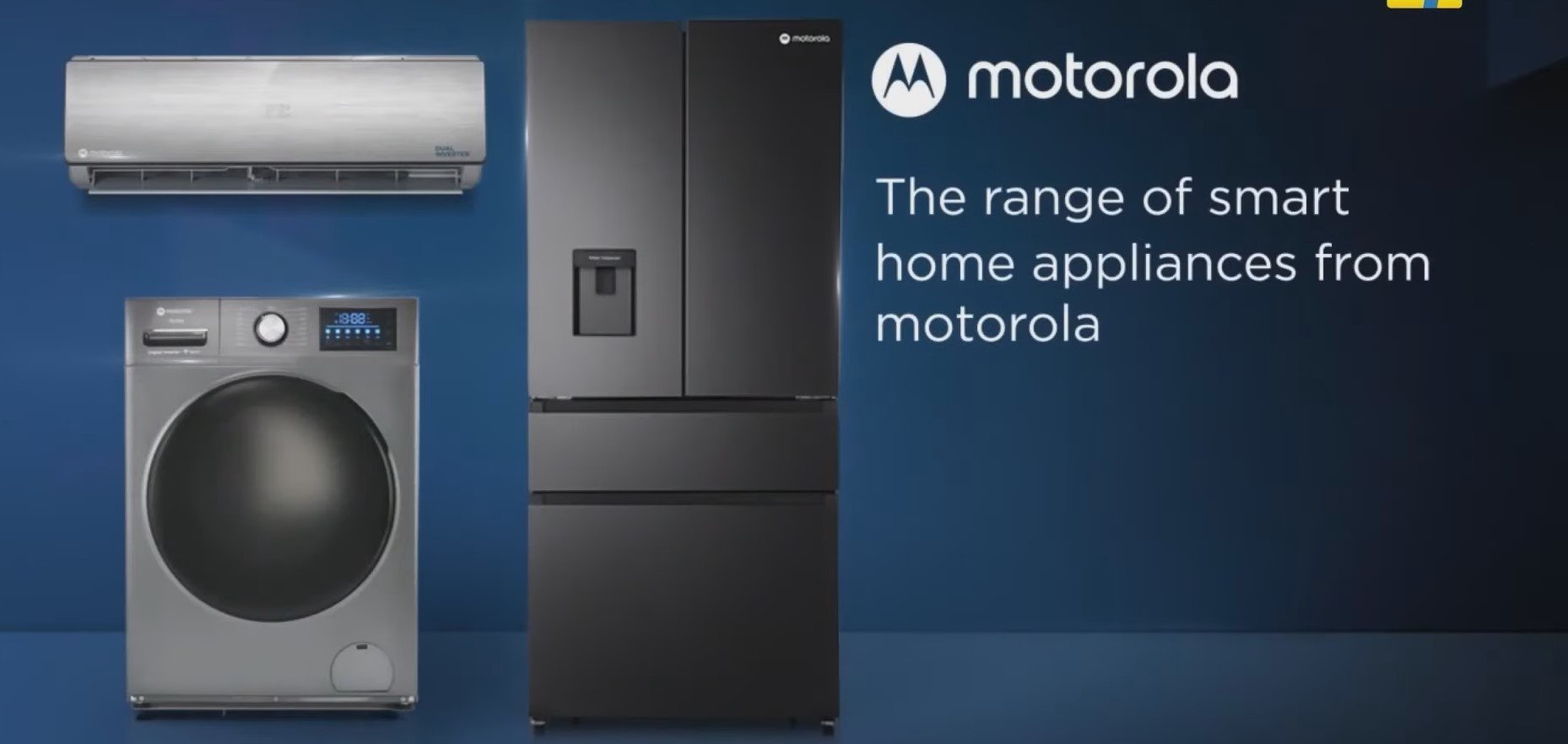 Motorola Air Conditioners
Starting with the Air Conditioners(AC), Motorola launched(via Gadgets360) five models in total. They feature a twin rotary compressor, 5-speed fan with a 4-way swing. Also, it has features like TruWiFi, Surroundcoolx, Dual-Inverter, Geo-Fencing. They have modes like dehumidify, auto, sleep, self-cleaning, and operate around 16-31-degree Celsius.
TruWiFi helps users to control ACs via a smartphone app to set modes, change temp, schedule, and share it across devices. Smart Geo-Fencing helps AC to detect if a person holding a phone is inside or outside of a room. It will turn on/off accordingly. Motorola says, the Dual Inverter Technology will help ACs operate 27% efficiently, and 20% silently than other ACs. Surroundcoolx will help cool the room to 18-degrees in just 30 seconds. Its prices are below:
| Name(AC) | Price(in ₹) |
| --- | --- |
| 1 ton 3-star | 25,999 |
| 1.5 ton 3-star | 30,999 |
| 1.5 ton 3-star smart | 32,999 |
| 1.5 ton 5-star smart | 37,999 |
| 2 ton 3-star smart | 39,999 |
Editor's Pick: Xiaomi launches new energy-efficient Mi Vertical Air Conditioner in China
Motorola Smart Refrigerators
There are three models in 507, 533, and 592L capacities. There is an LED touch panel and a water dispenser. Also, they feature TruSmart sensors, modes like Super Freeze, SuperCool, Drinks, and Holiday.
Just like the ACs, Refrigerators can be controlled via smartphone through TruWiFi to change temperature, convert zones, change modes. And, get notifications on malfunctions. Its  Surroundcoolx multi-directional 360-degree air vents and metal cooling wall is for uniform cold airflow. Additionally, Motorola says the Adaptive Inverter Tech is 40% more efficient than conventional compressors with copper winding. The prices are listed below:
| Model(Refrigerator) | Price(in ₹) |
| --- | --- |
| 592L Side by Side | 51,990 |
| 507L Cross Four Door | 63,990 |
| 533L French Door Refrigerator | 69,990 |
Motorola Smart Washing Machines
Motorola launched five models of Washing Machines in total. Again, with TruWiFi, users can control options like wash modes, signal strength notifications, and get fault alerts. The company says clothes are washed at up to 80-degree Celsius to make them 99.9% bacteria-free.
The TruSmart Sensors here will aid the tri-stage watching by managing the heater throughout. Further, it has other features like foam level sensors to control foam, Oxyfresh to keep clothes free, 25-stain wash to remove stains. Digital Inverter Motor's power saving is 50% efficient than conventional machines. The prices are listed below:
| Model(Front Load Washing Machine) | Price(in ₹) |
| --- | --- |
| 6.5 Kg | 23,499 |
| 8 Kg | 28,999 |
| 10.5 Kg | 33,999 |
| 8 Kg/5 Kg Washer Dryer | 35,999 |
| 10.5 Kg/6 Kg Washer Dryer | 39,999 |
Availability
In addition to this, Motorola also launched Revou, and ZX2 Android TVs ranging in HD, FHD, and 4K, and starting at ₹13,999. That said, all the Home appliances will go on sale from October 16 via Flipkart as a part of Big Billion Days. However, Flipkart Plus members can access it from October 15, 12 PM IST.
Up Next: Motorola offers up to 32% discount on Smartphones during Flipkart's Big Billion Day sales
ALWAYS BE THE FIRST TO KNOW – FOLLOW US!