Back in 2018, LSU basketball player Wayde Sims was shot and killed in East Baton Rouge while trying to defend a friend. Two years later, Minnesota Timberwolves guard Jacob Evans has revealed that he came up with a special way of honoring Sims.
Evans and Sims both grew up in Baton Rouge, and Evans was deeply saddened by the new of Sims' murder back in 2018. That's when he decided to have a custom piece of jewelry made to honor Sims' memory.
According to TMZ Sports, Evans reached out to Courtney Roy at Clarity Custom Jewelry about getting a pendant featuring an image of Sims and another friend who died last year, Ja'Cardo Hawkins. The pendant features a border lined with diamonds with a rotating portrait in the middle that spins to show both Sims and Hawkins.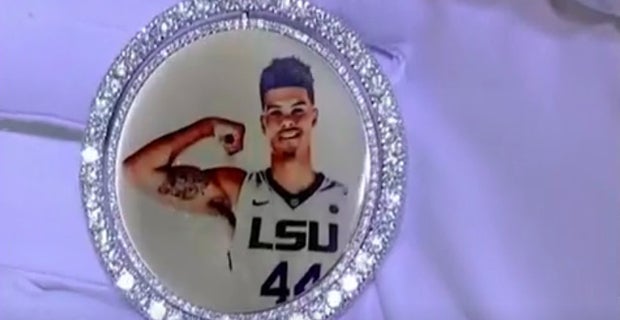 Sims was part of LSU's 2016 signing class, and everyone involved with the program was crushed after learning the news of his passing. When speaking about Sims shortly after his death, LSU head coach Will Wade described what it was like having Sims around the facility on a daily basis.
"It's obviously a tough day, but it's one of those days where we want to remember Wayde and what a great person he was," Wade said. "Besides the fact he had the best impression of me on the team. Just an unbelievable person and was continuing to grow and had just done a great job building a bridge with our team. That's what makes it so tough for all of us and for our team as well is everybody liked him. Anybody he came in contact with, automatically just loved his personality. He was just a blast to be around at all times so obviously, we're all still devastated and in shock about everything, but we're going to support Wayde's family and we're going to support our guys and slowly move forward from this."