Samsung Electronics has launched a next-generation solid state drive (SSD) for general consumers. The new SSD is two times faster than its predecessor and it will be perfect for increased demands in IT devices due to COVID-19.
Samsung Electronics announced on Wednesday that it has launched its new SSD called "980 PRO" for consumers.
980 PRO SSD is Samsung Electronics' first NVMe-based (Non Volatile Memory express) SSD applied with PCIe (Peripheral Component Interconnect express) 4.0. It delivers sequential read and write speeds of up to 7,000MB/s and 5,000MB/s respectively. Its random read and write speeds reach up to 1 million IOPS (Input/Output Operations Per Second). These speeds are about twice faster than that of 980 PRO SSD's predecessor "970 PRO", which was released in 2018, and 13 times faster than that of normal SATA SSDs.
Samsung Electronics has raised the level of stability of 980 PRO SSD by using heat controlling technology. Unlike normal NVMe SSDs that are dependent on external heatsink, 980 PRO can effectively control heat using nickel-coated controller and its "heat distribution sheet" that is located on the back of the SSD. In addition, it is able to minimize any fluctuation in performance by maintaining hard drive temperature at its optimal level through dynamic thermal guard (DTG) technology. Samsung Electronics designed every component such as SSD controller and sixth-generation V-NAND.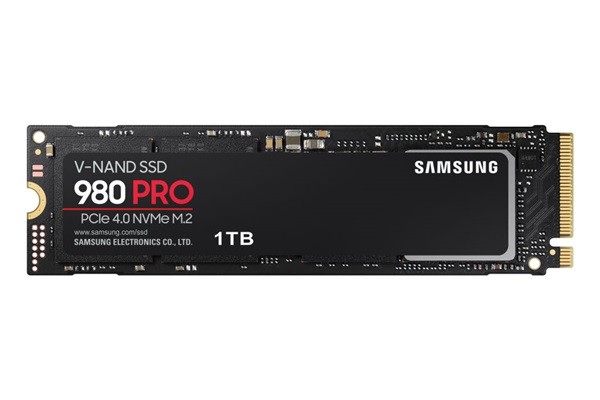 SSD is a storage device based on NAND flash memory. Because it has bigger storage space and faster speed than a hard disk drive (HDD), it is drawing attention from the global high-performance computing market.
While SSDs were generally used for data centers and businesses, there have been increased demands from consumers as well as contents services such as Netflix continue to grow and there has been a growing need for large storage devices due to teleworking and online education. A market research company Omdia estimated that the global market for SSDs for consumer use will be worth $15.14 billion by the end of this year which will be a 45% growth compared to last year.
Samsung Electronics expected that there would be increased demands for SSDs in the second half as well considering the fact that the global SSD market had grown greatly in the first half due to increased demands for IT devices. Its strategy is to satisfy increased demands by launching high-performance SSD.
"Samsung Electronics has continued to break through limitations of high-performance SSD." said Meng Kyung-moo who is an executive director at Samsung Electronics. "980 PRO SSD will provide new experiences for consumers as it will be the best high-performance SSD."
980 PRO will be available in 1TB, 500GB, and 250GB models that will be available in 40 different countries that include the U.S., Germany, and China. 2TB model will be made available at the end of this year.
Staff Reporter Kang, Hyeryung | [email protected]