Samsung Electronics introduced a UV sterilizer that charges and disinfects the phones recently. And now, it is reportedly planning to launch products like home appliances fitted with UV LEDs more in 2021. A report by TheElec says Samsung's latest decision is to make people worry less about disinfection amidst a pandemic.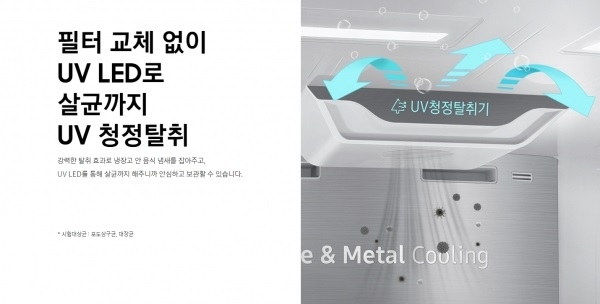 According to the report, Samsung planned to use the UV-C LEDs on consumer electronics products back in September. Apparently, it's plan is to use the wavelength range of 250-280nm of the UV-C radiation. This is understandable considering UV-C, which generally operates around 200-280nm, is effective to kill germs, viruses, bacteria, particularly around 264nm wavelength. For the unware, UV LED emits ultra-violet light that is invisible to human eyes. There are three range of UV light- UV-A, UV-B, and UV-C. UV-C is Germicidal and has deodorant effects. It kills all the germs, bacteria, viruses by destroying their nucleic acids and disrupting DNAs.
Samsung, so far has only a small range of products like the Bespoke range of refrigerators. And, in case you don't know, Samsung's range of home appliances like microwaves, dishwashers, air conditioners, fridges, washing machines, driers and air purifiers, and more. If the report is true, the company will apply the UV-C LED disinfection in 20-30% of home appliances by 2021. However, it is reportedly yet to finalize the list.
Further, the company will reportedly outsource the LEDs from South Korea and China and not from its own sister, S-LED. The report also says that Seoul semiconductor and Semiconlight have the capacity to make UV-C LEDs in South Korea. That said, Samsung might seek after one of them. While the exact reason for the outsourcing is unknown, the complexity of UV LEDs and the requirement of sophisticated technology could be the reason.
Although Samsung tried its best in implementing the disinfection during the early days of COVID-19, it hasn't been that vocal when it comes to applying UV LEDs to its products. However, it's rival LG's Innotek, has experience with InnoUV and already hosts a range of products with UV LEDs. That said, with the outbreak of the virus, UV LEDs are blooming and it will only get better in the future.
Up Next: Samsung patents hideaway hinge with LED indicators for foldables
ALWAYS BE THE FIRST TO KNOW – FOLLOW US!