By Al Nigrin
originally published: 09/23/2020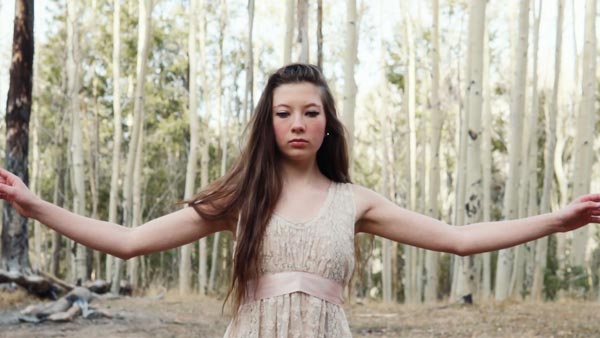 Here is my interview with Bella Co-Director Seth D. Myers:
Nigrin: Your beautiful experimental film Bella focuses on the amazing dancer Bella Palermo. Please tell us more about how you decided to make this film?
Myers: My long-time collaborator and co-creator Sarah Stolar, whom I met in graduate school, invited me to collaborate with her on a video artwork for an international multimedia exhibition focused on wayfinding. Since we had not lived and worked close to each other for several years, this was a reunion of sorts. During our preproduction discussions, our ideas kept expanding way past a single work or vision or medium. This ultimately evolved into a body of work that included this long-form short. In our earlier collaborative projects, we tended to scale back some of our grandiose ideations due to budget restraints or technology limitations. In this case, we decided to push forward on our ideas as hard as possible, and one of the results was Bella.
Nigrin: The opening music reminded me of some of Popol Vuh's haunting music. Are you familiar with their work? Tell us about how the soundtrack to this film came to be.
---
The article continues after this ad
---
---
Myers: Yes. Very much so, although it wasn't in our minds at the time. In retrospect, I can see the connection now, but the soundtrack was established by several varying factors. First, Sarah and I love repurposing sounds that we have had incorporated in earlier works. For instance, Sarah has implemented church bells, ominous hums, and angelic harmonies in many of her experimental videos and large-scale installations. I have been heavily influenced by the music coming out of Iceland, including Sigur Ros (whose music video of their song Sæglópur had an influence on the opening scene). We also searched for underground and emerging experimental musicians in the U.S. that had distinct connections to sound artists like John Cage. Lastly, I cannot leave out the influence of Maya Deren, and specifically the sound in her work Meshes in the Afternoon created by Teiji Ito. Bella's visuals allowed for a really fantastic hunt for complimentary audio along with producing our own sounds. For instance, slowing down Vivaldi for the final fire scene.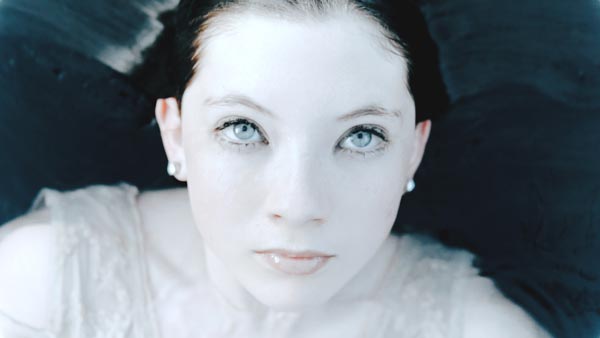 Nigrin: The lead Bella Palermo is really wonderful and has a very strong presence. Tell us more about her and how she ended up performing in your film?
Myers: First, I just have to say how honored I was to work with such a fantastic talent like Bella, who was only 16 at the time of the shooting. Co-creator Sarah Stolar has been like a second mother to Bella since she was born. Sarah also can be labeled as her mentor, educator, dance coach, and biggest cheerleader. I had only known Bella through Sarah's paintings and home videos and images Sarah had taken thru the years. Sarah has always integrated Bella into her interdisciplinary work. I was honored and privileged to build off this already established creative relationship. Sarah always referred to her as her "muse," and it's clear why, as my experience working with her was transformative. Logistically, Bella performed her scenes in an intense grouping of concurrent days and shoots. The scheduling was established during one of her breaks from the New Mexico School of the Arts, where she was currently being trained in Dance. She is a multifaceted dancer that has a broad skill set ranging from Ballet to Aerial Silks. It wasn't challenging to title the film Bella. It just felt right.
Nigrin: The film's cinematography is also stunning. The staccato shots of when Bella comes out of the water and as she is climbing up the side of the mountain and the shots of the hooded phantom are pretty intense. Please tell us more how you decided to give the film this look.
Myers: I think John Spencer, our Director of Photography and Co-editor, deserves an incredible amount of credit in interpreting, deciphering, and using his own creativity and technical expertise to materialize the vision of two powerful creative voices coming at him constantly from Sarah Stolar and myself. He was also allowed a tremendous amount of creative freedom to explore various solutions while shooting and editing, as we trusted his vision was aligned with ours. We all collectively had ideas, including Bella, and the group energy allowed for experimentation and exploration, resulting in the final visuals you see in the work. This also allowed for many happy accidents, which Sarah and I have always allowed into our work. Although we did have loose shot lists and storyboards, the collective group let the work go where it wanted to, allowing it to expand beyond our own individual fixed ideas. I'd like to also note that all the dollhouses in the work were created by Sarah, and many of the shots were influenced by Sarah's incredible drawings of keys, dancers, ribbons, landscapes, stone structures, and shadowy figures. Ultimately, I think the look was a combination of Sarah and my aesthetic seen in our past independent and collaborative work, pulled together with John's fresh cinematic approaches.
Nigrin: The locations are also amazing. Tell us about where you shot your film and how you ended up shooting in these places.
Myers: Most of the scenes of Bella were shot in the beautiful state of New Mexico. Sarah lives and has her studio in Sante Fe, New Mexico, and teaches in Taos, New Mexico. Sarah and I always like to blur the lines between life and art, and many of the locations were frequented by Sarah in her life. She found magical ways to incorporate her surroundings into the work. She was instrumental in scheduling preset locations all over New Mexico's diverse landscapes while also picking new spaces she intuitively knew would connect to the work.
The shadow scenes were mostly shot in a labyrinth in New Harmony, Indiana. It was designed by the Rappites, an ultra-religious German society, as a spiritual environment for both meditation and reflection in the early 19th century. The labyrinth is one of the last remnants of this community. This made for a perfect space for the shadow's "home." As luck would have it, it was a 6-hour drive from the area of Iowa where Director of Photography John Spencer and I lived. The other shadow scenes were shot throughout Colorado as we were making our way to New Mexico by vehicle. This was the most exploratory and organic part of the shoot. The highlight of that journey was shooting in the Great Sand Dunes, which was the most challenging, and had connections to some of my early career performance artworks.
Nigrin: I also wonder if you are fans of Maya Deren. I sense a kinship in Bella with some of Maya's dance films. Are you familiar with her work?
Myers: Personally, I am heavily influenced by Maya Deren, and I think the way we created this work lends itself to her own experimentation and abandonment of the established rules of filmmaking in the 1940s. We were a total crew of four and prided ourselves on our true independence and experimental process, similar to her own way of working with a small team.
I love her use of symbolism and her visual investigations of space and time in relation to physical movement. Her collaborative piece Meshes in the Afternoon was always in my mind's recesses when working on this piece.
Nigrin: Are there any memorable stories while you made this film or any other info about your film you would like to relay to our readers?
Myers: There is a quote from R.D. Laing, a radical psychiatrist that comes to mind, "Creative people who can't help but explore other mental territories are at greater risk, just as someone who climbs a mountain is more at risk than someone who just walks along a village lane." I think I could speak for all of the artists involved making this work that we collectively climbed that mountain and probably jumped off. The experience of this collaboration has impacted all of us for life. Sarah used the words "in perpetuity" at the end of the shoot and I truly believe this work with live within all of us in perpetuity.
Bella is part of the New Jersey Film Festival Experimental Film Shorts Program. Here is more information on this screening: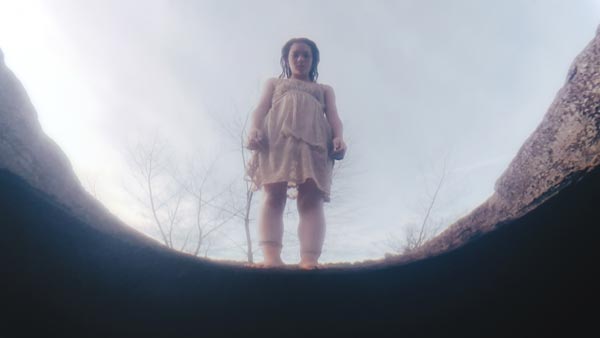 Experimental Film Shorts Program
Motion at a Distance – Lindsay Packer and Andrew Yong Hoon Lee (Brooklyn, New York)  Color takes ephemeral form into the sound space. Shadow shapes emerge, interact and recede as luminous, temporary geometries call into the question the division between analog and digital ways of seeing and believing. Motion at a Distance is a stop-motion animation by Lindsay Packer. Optical sound by Andrew Yong Hoon Lee guides Packer's light-based installation and performance work into the realm of film. Lee's composition uses sound as material and is pushed and pulled much like paint on a canvas to create abstract textures that evoke mood and memory. 2019; 3 min.
Dysphoria – Eric Butler (Orlando, Florida)  An A.I. or person struggles to recognize the self in it's truest sense, from second to second, taking into account past, present, and future (Family pictures, watching screens, and the Free Will Thereom), all of which is happening in every moment. Warning: strobe effect. 2020; 5 min
Night Birds & Ghost Crabs  – Robert Sickels (Walla Walla, Washington)  In pairing experimental imagery with interviews in which people from all walks of life discuss the gamut of that which keeps them up at night, Night Birds & Ghost Crabs documents those lonely late night moments we share with so many others the world over. As it turns out, though we are physically alone during the wee dark hours, we are united in sleeplessness with untold millions, and there's a kind of reassuring comfort in that realization. 2019; 6 min. 
Slideshows From The Peanut Gallery – Paul Rodgers (Lexington, Kentucky)  Slideshows From The Peanut Gallery is an experimental animation that examines this pathology of longing by producing a hyper-facsimile of the family photo. The process starts by digitally scanning Kodak slides that have some formal or conceptual relationship. The subjects are then digitally traced, cut out, and animated: a kind of forensic archeology in response to the photographic image that breathes life into the subjects—and conversely flattens and mechanizes them. The resulting animation is a dream-like, non-narrative reenactment of the past that echoes the fleeting and arbitrary nature of nostalgia and the corruption of memory, an uncanny slideshow for strangers. 2020; 8 min.
Patient's Copy – Patrick Tarrant (London, England)  A hand-made reflection on the underconscious and on the illustration of ideas on plastic. This collage film comes about after the discovery, in my university office, of a thousand overhead transparencies used for teaching biology. A chemically induced gaze looks out over this archive while a light shines down on obsolete treasures, buried ideologies and the science of life. Patient's Copy focuses on the capacity of these acetate transparencies to not simply allow light to pass through them, but also to allow light to reflect off them. This suggests a new function for images that have not only been excavated from their pedagogical and technological moment but which, in their new fluorescent form, are both less plastic, and more plastic than ever before. 2019; 10 min
Bubble – Haonan Wang (Beijing, China)  This is an urban tale of love and sacrifice set in a mysterious restaurant hidden in an alleyway. On an ordinary night, a man eats a lot of herbal plants in front of a woman, transforming himself into the woman's food. In Mandarin, subtitled. 2020; 14 min.
Knock, Knock, Knock – Arom Choi  (Seoul, South Korea) Knock, Knock, Knock follows Hana, a young woman who confines herself to a tiny box-like room. She interacts with the world by listening through the thin walls that separate her from her neighbors. Hana is consumed by thoughts of death, only to be confronted by an unexpected death. The room itself acts as an antagonist; the limited space and sound has the power to manipulate human emotion. In Korean, subtitled. 2019; 16 min.  
Bella – Seth D. Myers and Sarah Stolar (Dubuque, Iowa)  A young female dancer travels on an emotional journey through psychological and physical landscapes to discover a crucial truth that lives within her. 2019; 18 min.
Co-sponsored by the Rutgers University Cinema Studies Program!
Friday, September 25, 2020 – $12=General
Films will be available on VOD (Video On Demand) for 24 hours on their show date. There will also be special Filmmaker Introductions and Q+A Sessions available for many of the films. To buy tickets for this screening go here:
https://watch.eventive.org/newjerseyfilmfestival2020/play/5f14866886665b005f05688e
Information: (848) 932-8482; www.njfilmfest.com
https://watch.eventive.org/newjerseyfilmfestival2020
https://newjerseyfilmfestival2020.eventive.org/schedule