One of the highlights of science classes in school had to when we got to toy around with microscopes. Of course, while most microscopes in school were fairly basic models, the kits used in professional fields such as microbiology can cost thousands of dollars–money that not everyone has, meaning less access to the technology.
Andy Mill was trying to make a low-cost solution to this issue when he created Skylight, an adapter that can connect most smartphones to a variety of different microscopes. Skylight works by aligning your smartphone's camera with a microscope's eyepiece, allowing you to record a video or snap a photo through the lens.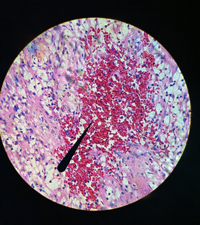 Andy created a Kickstarter page for Skylight, so you can help turn this idea into a real product. For every five of the $60 adapters purchased, one will be donated to less-developed countries.
Find out more about Andy's project on Kickstarter, and if you want to try and make your own version of the Skylight, head on over to Andy's how-to on Instructables. Unless you have those specific items, though (like a C-clamp), it could be quite a tricky DIY build.
If you don't have a microsope to fit a Skylight on, don't worry, you can still produce great magnified images with this microscope lens technique.
Check out the video below showing a flourescent smartphone recording of a flower, very close up:
Your browser does not support iframes.
[Skylight via Instructables and Kickstarter]
Like this? You might also enjoy…
Get more GeekTech: Twitter – Facebook – RSS | Tip us off
Note: When you purchase something after clicking links in our articles, we may earn a small commission. Read our affiliate link policy for more details.