Sony is the first of the big manufacturers to break cover in the run up to IBC with news of the new HXR-NX5R camcorder, which it pairs with a new remote controller and all-in-one switcher.
Sony has just announced an expansion to its NXCAM product line with the HXR-NX5R HD camcorder. Based around 1-2.8 HD sensors, the NXCAM records XAVC-S 50Mbps HD up to 60p as well as legacy AVCHD recording. It adds a 3G-SDI output to the NXCAM body with 60p output. Additionally the sensor is capable of 40x zoom with Sony's ClearScan technology.
The camera includes an adjustable built-in LED light, an industry first. The camera also incorporates built-in WiFi and FTP wireless protocols, as we are now finding in all Sony cameras. It follows other Sony cameras as well in offering a high-contrast OLED viewfinder. In yet another feature adopted from Sony's line, the NX5R includes Sony's MI Hot Shoe for direct connection of such peripherals as the UWP-D series wireless microphones.
Sony is positioning the HXR-NX5R for corporate, event/wedding, ENG, docs, sports and other such uses requiring HD quality, compact size and strong price/performance ratio.
The HXE-NX5R will be available in September at a price to be announced.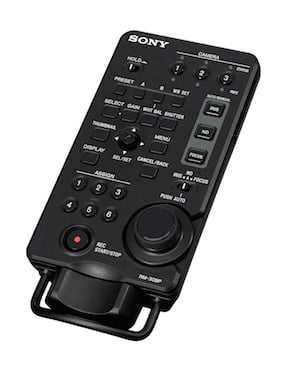 RM-30BP Remote Controller
There's more too. The RM-30BP Remote Controller can stand alone or be mounted on a tripod arm. It offers auto/manual focus control, as well as iris and zoom control on applicable lenses. It can control camera functions including recording, display, shutter speed and white balance. Six assignable buttons add to the number of controllable settings. When paired with the MCX-500 all-in-one switcher, it can control up to three cameras.
The RM-30BP will be available in October at a price to be determined and Sony so far has announced it will support the new HXR-NX5R, as well as the PXW-FS7 with firmware 4.0.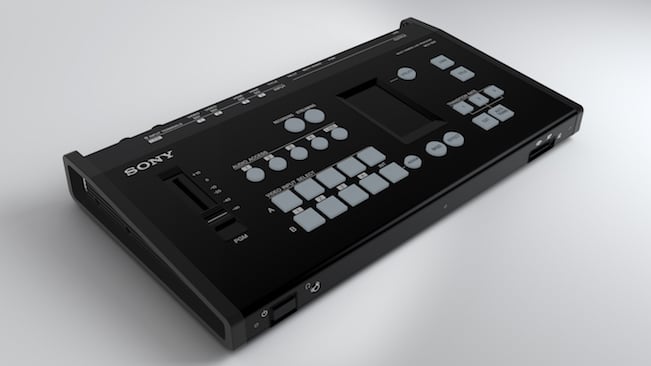 MCX-500 switcher
Finally, the MCX-500 all-in-one switcher is designed to work in conjunction with the NX5R camera. Sony's initial publicity does not specify the number of source inputs but if the RM-30BP in conjunction with the MCX-500 is able to control three cameras, it might be safe to speculate that the compact switcher will handle at least three cameras. The switcher is able to send PBM/PVW tally signals to each camera to enable operators to know when their camera is live. It is designed for small scale productions with smaller crews. Sony also does not specify whether it will work with any other camera. Details, we are certain, will follow in the coming weeks.
The MCX-500 is slated to ship in January 2017, also at a price to be announced.