Today at VMworld 2020, VMware announced both new and enhanced VMware Cloud Services that aim to help its customers build their multi-cloud future. As with several of the announcements today, these aim to help customers build, run, manage, connect, and protect any app on any cloud. VMware states that the following will unlock the full potential of multi-cloud while remaining secure and operationally efficient.
Today at VMworld 2020, VMware, Inc. announced both new and enhanced VMware Cloud Services that aim to help its customers build their multi-cloud future. As with several of the announcements today, these aim to help customers build, run, manage, connect, and protect any app on any cloud. VMware states that the following will unlock the full potential of multi-cloud while remaining secure and operationally efficient.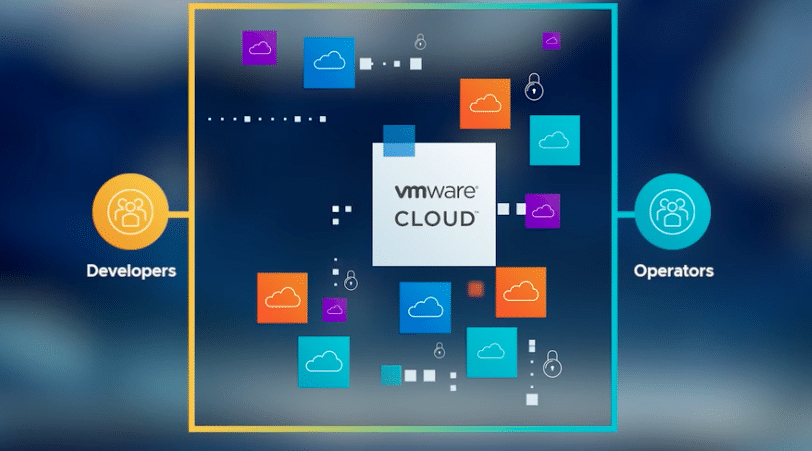 VMware has come a long way in the last 22 years. According to the company, more than 15 million enterprise workloads run on VMware in the cloud, and more than 4,300 partners offer VMware-based cloud services, including all the major cloud providers. This year we are seeing a turbulent market from both the disruption in the world at large due to the coronavirus pandemic and the change in technology as we move into next-generation apps in a multi-cloud world. VMware has a broad range of capabilities that range from cloud, app modernization, networking, security, to digital workspace platforms. They also have quite the ecosystem of partners that leverage their technology. Today's announcements further support customers as times they are a-changin'.
First up, VMware looks to deliver a unified platform, not an easy task in a changing and multi-cloud world. There are so many options to choose from each with their own benefits (and drawbacks in some cases). Luckily, VMware offers a complete cloud portfolio with consistent infrastructure and operations. To further this, today they announced:
Migrating and Modernizing Apps VMware Cloud on AWS: As of August 2020, total VMs are up 140%, and the total number of hosts up 130% year over year on VMware Cloud on AWS. More than 600 channel partners have achieved a VMware Cloud on AWS service competency, and there are 300+ certified or validated technology solutions available to customers. Working with AWS, VMware's preferred public cloud partner for vSphere-based workloads, VMware is delivering innovations that will give customers more capabilities to deploy, move, connect, and protect applications at scale. Support for VMware Tanzu centralizes operations and management of Kubernetes clusters. VMware Transit Connect provides simple, consistent networking and security across different cloud environments. VMware HCX enhancements make planning and executing zero downtime mass application migrations easier. Broadened support for VMware vRealize Cloud Management services improves IT agility and maximizes uptime and performance, while new and expanded disaster recovery capabilities help minimize business disruptions. The new i3en.metal instance, which delivers nearly 50% lower cost per GB of raw storage, improves storage efficiency for data-intensive workloads with VMware vSAN compression.
Running VMware Applications on Microsoft Azure: the next-generation Azure VMware Solution enables customers to easily extend or migrate on-premises VMware applications to Azure. A first-party Microsoft service, Azure VMware Solution
Simple, Scalable, More Secure Infrastructure-as-a-Service On-Premises: VMware Cloud on Dell EMC, the data center-as-a-service offer of Dell Technologies Cloud, adds new VMware HCX workload migration capabilities, improved performance, new host types, and support for multiple clusters within a single rack. New industry certifications provide expanded support for customers in regulated industries.
Run Kubernetes Workloads Anywhere: VMware is announcing Tanzu support for VMware Cloud on AWS and preview support for Google Cloud VMware Engine and Oracle Cloud VMware Solution. VMware and Microsoft are also working closely together to make the preview available to early adopters soon. These updates provide customers with fast and secure ways to extend workloads to the cloud and further bolsters VMware's ability to offer customers a ubiquitous platform for running applications on the infrastructure of their choice.
Simple Disaster Recovery Service with Cloud Economics: VMware Cloud Disaster Recovery is a new on-demand, easy-to-use disaster recovery as a service (DRaaS) that protects on-premises vSphere workloads onto VMware Cloud on AWS. It combines efficient cloud storage with SaaS-based management for IT resiliency at scale. Customers benefit from consistent VMware operations across production and DR sites, and a 'pay when you need' failover capacity model for DR resources.
Modern Virtual Desktop and Application Delivery Platform Across the Hybrid Cloud: VMware Horizon 8 is available for deployment on VMware Cloud on AWS, VMware Cloud on Dell EMC, Google Cloud VMware Engine, and Azure VMware Solution. Horizon helps IT teams more efficiently manage and easily scale virtual desktop and application delivery from a single control plane across clouds. VMware Horizon enables IT to rapidly provision full-featured, personalized virtual desktops, and applications using unique Instant Clone technology.
Single Marketplace Featuring Thousands of Apps and Solutions: with the new consolidated VMware Marketplace, customers can discover thousands of validated third-party, open-source, and first-party solutions. These can be deployed across vSphere, VMware Cloud on AWS, VMware Cloud on Dell EMC, and VMware Tanzu environments. With VMware Cloud Director service integration, partners can offer tenants a modern application catalog for developers.
On top of a unified platform, VMware is unifying multi-cloud management and operations as well. According to the company, VMware Cloud Management enables organizations to consistently deploy, operate, and govern applications, infrastructure, and platform services across any cloud environment. Today, they are building off of their track record with new cloud management innovations including:
Innovative Cloud Management Hybrid Subscription Solution: VMware vRealize Cloud Universal combines SaaS and on-premises management software into a single subscription license, enabling customers to use either method of consumption interchangeably without the need to repurchase different licenses to support each option. It includes vRealize AI Cloud and other cloud-first capabilities across operations and automation. These include federation capabilities for a consistent multi-cloud management experience across deployments and VMware Skyline integration, which enables proactive issue avoidance, troubleshooting, and automated workflows in a unified management and support experience.
AI-driven, Cloud-Delivered Application Performance Optimization: formerly Project Magna, VMware vRealize AI Cloud is an intelligent, self-tuning cloud service for application performance optimization. It combines near real-time and historical observability with reinforcement learning to continuously adapt VMware cloud infrastructure to the changing needs of application workloads. VMware vRealize AI Cloud helps assure service-level agreements are met while enabling business agility as customers scale and migrate workloads across environments. At launch, vRealize AI Cloud supports VMware vSAN and will be extended to other VMware solutions and application optimization use cases in the future.
Multi-Cloud Operations for Oracle Cloud Infrastructure: CloudHealth by VMware now supports Oracle Cloud Infrastructure (OCI), enabling enterprises to view all public cloud costs from a single platform. Enterprises gain visibility into usage of OCI Pay-As-You-Go (on-demand) and Monthly Flex (Reservation) purchase models so they can make better decisions about proper usage of each. Customers can also group assets by business unit, department, cost center, and owner, for cost reporting and show back using OCI tags and CloudHealth's Perspectives capability.
Multi-Cloud Security Posture Management and Compliance CloudHealth Secure State add real- time monitoring for Google Cloud, as well as 20 new AWS and Azure services, including managed Kubernetes and serverless configurations. Organizations can more effectively scale security and improve collaboration between teams through simplified management of cloud accounts, custom compliance frameworks, and Azure auto-remediation support.
There is quite a bit of information above that VMware has shared with us. There are enough new enhancements to touch just about every potential. However, if a company is new to the market and reads over this, it may be even more confusing as to where to start. Multi-cloud is a journey into, not unmarked, but new territory and it is better to go with a guide. On that end, VMware announced two new cloud services to help customers on their way. These include:
VMware Cloud Partner Navigator: formerly Project Path, VMware Cloud Partner Navigator enables partners to expand business opportunities beyond their own clouds to include the expending set of VMware-based clouds and services. Customers gain greater flexibility and choice to run applications in the cloud that best meets their operational and business requirements, with a one-click application and service deployment, and access to a robust marketplace. Partners can also provide customers direct access to VMware's growing portfolio of application modernization, business continuity, and multi-cloud operations services.
VMware Cloud Director 10.2: adds a set of capabilities that will enable partners to expand their service offerings with enhanced network and security services, lower costs with increased storage flexibility and efficiency, and accelerate support for developers and DevOps engineering with a full development infrastructure.
Availability
Azure VMware Solution, CloudHealth support for OCI, VMware Cloud on AWS support for VMware Tanzu, VMware Cloud on Dell EMC updates, VMware vRealize Cloud Universal, and VMware Marketplace are all available. VMware Cloud Partner Navigator is in preview. All other products and services announced today are expected to be available in VMware's fiscal Q3 FY21 which ends on October 30, 2020.
VMware
Engage with StorageReview
Newsletter | YouTube | Podcast iTunes/Spotify | Instagram | Twitter | Facebook | RSS Feed