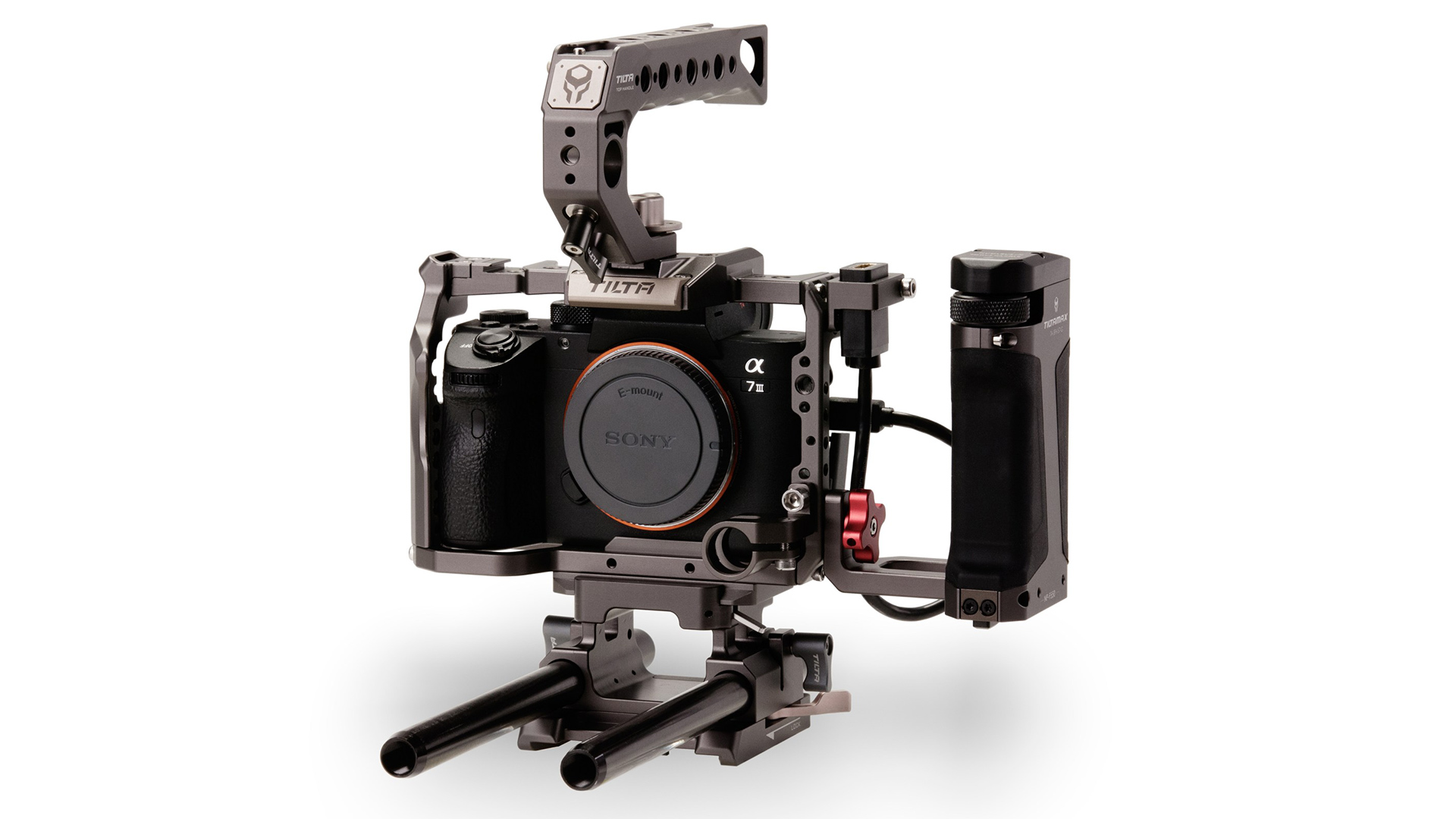 Is the stills form factor really that bad for video? We don't think so.
We currently live in a world where pretty much all camera types can produce really high quality video, yet despite this mirrorless cameras are still seen by some as 'not real video cameras'. I have made jibes against the stills form factor and DIY rigs in the past myself. But I have changed my mind.
My camera history isn't quite as long as some of the esteemed people who read RedShark, and I have never been lucky enough to use something like a Venice or Alexa on a job. But I was an owner/user of ENG style cameras at one time, as well as all manner of other smaller camcorders. So I am pretty well experienced as to the pros and cons of different camera shapes and sizes.
Times have moved on, and so have the types of video being made.
You've got an uphill argument if you want to pursuade me that this fully rigged up Venice is more mobile and easy to use than a rigged up mirrorless camera. Image: Wooden Camera
The ergonomics argument
When the Canon 5D MkII came onto the scene, users put up with the ergonomics because there was no other affordable video camera that had a big chip inside it with the sort of sensitivity the 5D offered. At one time if you had asked me about the stills form factor for video, I would have told you that it wasn't really best suited. But if I think about it objectively now, it is a puzzlement for me that the shape and ergonomics of a DSLR were ever really an issue for people. If you were talking about the lack of built in ND filters, smooth iris control etc, then yes, I would agree with you about such limitations. But ergonomics?
After all a DSLR or professional mirrorless camera is designed specifically around the idea of handholding the camera as a steady platform. That's precisely why a stills camera is designed as it is. Professionals will use such cameras with big heavy lenses all day long, but you don't hear stills photographers crying out for their cameras to look like a DSR-500.
You are holding your elbows in close to your body while using it, no more or less tiring a position than holding a small camcorder at for any period of time! It simply isn't practical to expect all cameras to have ENG style shoulder balance.
A simple cage and top handle makes things easier to use. Originally one of the main criticisms made of hybrid cameras was the need for off-camera sound recording all the time. This was a pain to do, and the internal preamps left a lot to be desired too. Video was, to be truthful, a secondary feature of the original hybrid cameras.
If this was a DSLR rather than a C200, such a rig might be mocked by some quarters. But what's the difference? Really? Image: Tilta
Time moves on
The video DSLR revolution is over, and some people were relieved that large chip dedicated cameras came onto the market. But there is a sizeable portion of video makers who grew up with video DSLRs and actually prefer that format. And why shouldn't they?
Dedicated photographers can still purchase cameras that are mainly stills focussed, but manufacturers are also making cameras that are very firmly aimed at giving a true stills/video balance, or even a very definite video focus.
This means that cameras like the GH5 came into existence. Systems that could take great stills, but also great video. The audio preamps on the latest designs are getting better and better, to the point now where recording sound in-camera is no longer a gotcha. XLR sockets are now also possible. Video capability is no longer secondary in such designs, it is up front and primary.
It is therefore a bit nonsensical to hold onto the idea that a camera like the FS7 is a 'real' video camera while a GH5 etc isn't, especially if your only reasoning is because of its shape. I can tell you now that I've had occasions where I've been shooting with a camera like the FS7 with all sorts of bits hanging off it, wishing I was working with a much smaller camera, even if that, too, had loads of bits hanging off it!
This Tilta rig for the BMPCC 4/6K is actually highly practical
They're popular
People are buying these cameras, and they are buying them because they are good. Now I have heard the argument that they are being purchased because they are cheap. But in fact I don't think you could say that a model like the S1H or Sony A7 series is cheap, especially when lenses and a cage is purchased. It's sometimes a bit of a joke amongst the video inclined that once you've purchased all the accessories you might as well have bought a full size video camera. So if it isn't cheapness, why are they popular?
It's because the limitations of the past no longer exist. Moire hardly ever shows its face anymore, they now have amazing autofocus systems with people, face, and object tracking, audio can be recorded via XLR cables, raw or high bit depth video can be output to external recorders, and even recorded internally in the camera, and to cap it all off, they are compact, size configurable (ie you don't have to have external recorders etc hanging off it) and easy to travel with. Pair one with a really high quality variable ND filter and even that problem goes away. Parfocal lenses? Again not a problem now that we have a choice of cine glass. Why spend the money on expensive glass for a small camera? Why not? Top end stills glass costs a fair chunk. Isn't it better to focus on quality glass more than the camera? You can use it on future cameras too! EVF? Again, not a problem anymore. Third party devices are available, and lest we forget that such things need to be purchased seperately even for cameras like the Ursa Mini.
Some would say that they are unweildy once loaded up with accessories. But are they really that much more unweildy than any other camcorder, such as a Canon C200, that has been loaded to the gunnels with external recorders, mic accessories etc? I don't think so.
For all these reasons, a modern mirrorless camera is generally no less practical or able than any other camera type at an equivalent price point. If you need features like multi-camera timecode synching, SDI etc, then you will need a 'traditional' camcorder. But that's simply about choosing a camera that has the features you want or need, and is not a debate on the suitability of any given camera for the basic duty of making videos with.
Different cameras are suited to different types of work. Don't write any single type off just because it doesn't suit what you do.