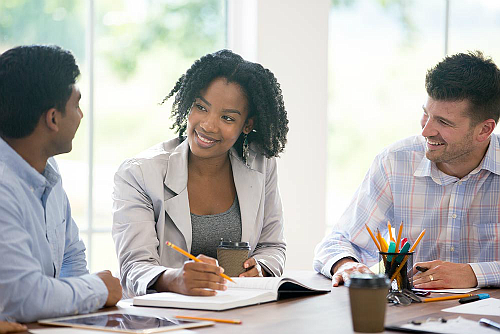 Saybrook University offers uniquely effective Leadership & Management programs. Here's why they should be considered:
Innovative, Holistic, Humanistic, and Sustainable:  Saybrook is a nonprofit university committed to advancing a people-centered approach to improving the conditions of individuals and society through leadership and organizational development​ in the for-profit, nonprofit and government sectors.
Taught by Scholar-Practitioners: 90% of Saybrook's faculty has a PhD and over 25 years as leaders, consultants, researchers, and thought leaders ​
Student Centered: Online, hybrid, low faculty-to-student ratio, office hour support​
Residential Conference: Learn from across University programs over 3 – 5 days, career development mentoring, resume review, and faculty mentoring.​
Global opportunities: International study opportunity and scholarships are available.​
MA in Leadership & Management (MALM) degree
(1.5  – 2 years)
Saybrook's master's degree in Leadership and Management explores management through a multidisciplinary lens, the knowledge area includes:
Leadership and organizational behavior
Economics and global business
Human Resources Management
Training, development and knowledge management
Organizational systems analysis
Information systems, communications and marketing
This MALM degree program is designed to help professionals advance their career in organizational management while promoting positive change at systemic levels of society. The MALM program incorporates team projects, adaptable learning activities, a unique multidimensional leader-management development model, and a final capstone project. 
Sample MALM Courses
Analyzing Complex OrganizationalSituations: A Systems Perspective
 With organizations as the focus, this introductory course provides students with a first look at systems thinking as an approach to understand complexity and identify leverage points for intervention. Through both theory and practice, students will learn to recognize the systemic nature of complex phenomena as well as develop systems models as a way to develop deeper understanding and to communicate more effectively the interconnectedness of a social system and its implications for transformation.
Envisioning Leadership as a Tool for Transformation
The contemporary organization is a complex enterprise requiring managers to engage with and lead a global workforce and facilitate dynamic social networks utilizing various forms of communication and collaboration technology platforms. Using various analytical lenses, this interdisciplinary course critically examines organizational characteristics, behaviors, dynamics and issues, as well as approaches shaped by social systems, intra and inter organizational networks, and cross-cultural perspectives.
PhD in Managing Organizational Systems
(3.5 – 4 Years, may apply up to 12 credits of relevant course work from the Master's Degree)
Managing Organizational Systems offers flexibility to design an individualized course of study within the following areas:
Systems design and transformation
Organizational learning and development
Saybrook's online Ph.D. MOS program is designed for advanced students who have a master's degree and who are interested in gaining the cutting-edge theory on organizational and social systems change—concluding with a dissertation research in a specific subject area of the student's choosing.  The graduates deepens their potential as executives, consultants, researchers, and teaching in higher education through close faculty mentorship.
Sample PhD MOS Courses
Conflicting and Corroborating Models of Adaptive Leadership
Leaders of change in organizations and in community need a wide range of tools to address diverse environments and challenges. This specialization course for the Executive and Community Leadership program brings focus to how the tools of Distributed Adaptive Leadership mesh with other management and leadership models. Participants in this course will learn to assess dynamic systems to determine the appropriate leadership models for lasting and significant change.
Foundations of Leadership & Management
This course grounds students in classic and emerging theories of leadership and management. They will explore a range of core concepts required to move from theory to skillful practice. Students will be encouraged to explore and expand their understanding of their own practices of leadership and management. Further, they will consider the concepts in a variety of organizational settings.
Learn more at saybrook.edu/areas-of-study/leadership-and-management.
For reprint and licensing requests for this article, CLICK HERE.